H-E-B Revolutionizes North Texas Retail Landscape With New MEGA-STORE in Allen, Texas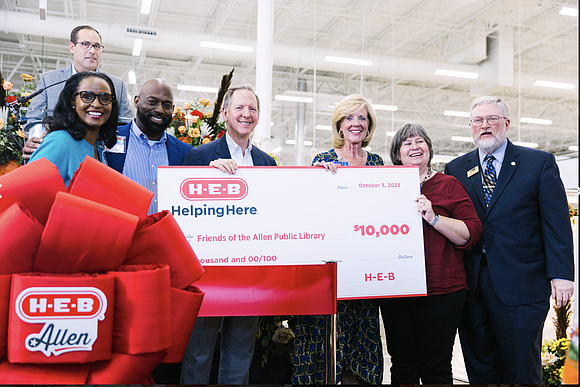 Houston Style Magazine brings the exciting news to its readers about H-E-B's expansive endeavors in North Texas. The beloved San Antonio-based retailer, H-E-B, has now unveiled its magnificent new store in Allen. This 117,000-square-foot retail marvel is not just another store; it's a culmination of tradition, innovation, and commitment to serving the community.
Set against the thriving backdrop of Allen, this store becomes the fourth H-E-B establishment in the DFW Metroplex in just one year. Joining its siblings in Frisco, Plano, and McKinney, this store is a testament to H-E-B's relentless dedication to the North Texas community. What's more, the company has further expansion plans with stores in Melissa, Prosper, and Rockwall on the horizon, ensuring that Texans never have to go too far for their trusted H-E-B experience.
One can't help but marvel at the distinctive features that the Allen store boasts. From the aromatic allure of the True Texas BBQ restaurant to the extensive Home by H-E-B decor department, every inch of this store is curated for an unparalleled shopping experience. For those on the move, H-E-B's Curbside and Home Delivery services seamlessly integrate the digital realm with physical shopping, ensuring convenience at every step.
Levon Norwood, the enthusiastic H-E-B Allen Top Store Leader, shared, "We are thrilled to welcome our Allen community to this state-of-the-art store, designed keeping their needs in mind. Every aisle, every product, and every service stands as a promise of H-E-B's unmatched quality."
H-E-B has always been more than just a store. Their environmental consciousness shines through in their Allen store design, emphasizing energy efficiency and sustainable practices. From LED lighting to CO2 refrigeration units and a focus on native landscaping, it's clear that H-E-B cares for the planet as much as it cares for its customers.
This commitment to the community doesn't stop at the store's doors. H-E-B's benevolent Spirit of Giving is well-known. In celebration of this grand opening, they generously donated $10,000 to the Friends of the Allen Public Library, further cementing their place in the heart of the community.
The DFW area is buzzing with H-E-B developments. From new stores in Alliance and Mansfield to the announcement of the innovative Joe V's Smart Shop by H-E-B locations outside of Houston, H-E-B is setting the pace for retail excellence in Texas.
To our readers, for more updates and information about H-E-B's upcoming ventures and their grand impact on the DFW Metroplex, stay tuned. And for those eager to experience the best of Texas retail, Allen awaits with its gleaming new H-E-B store!
Remember, whether you're in Dallas, Plano, Southlake, or Fort Worth, H-E-B's legacy of serving the community continues to grow. With its diverse store formats like Central Market, Joe V's Smart Shop, and Mi Tienda, H-E-B promises something for everyone.
Link: H-E-B's Community Initiatives