From Heartbreak To Heroics: Astros and Rangers Offer ACLS Thriller For The Ages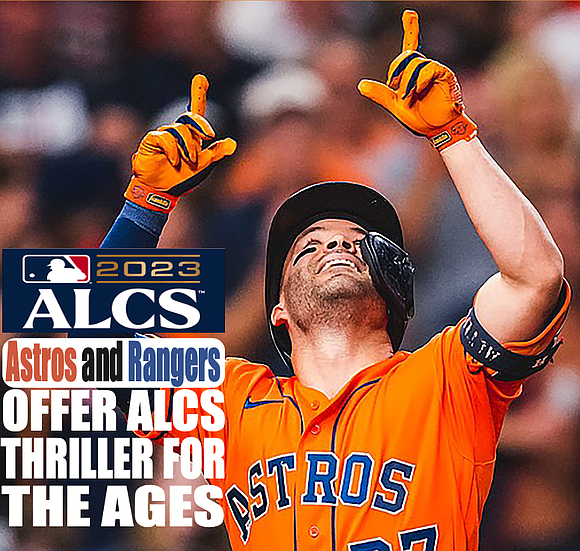 In a nail-biting finish to Game 7 of the American League Championship Series, the Texas Rangers displayed their dominance, securing a clear 11-4 triumph over the Houston Astros. This significant victory sees the Rangers heading to the World Series for the third instance, their first since 2011.
The series, however, was filled with unexpected twists and turns. Under the bright lights of Globe Life Field, Astros' star, Jose Altuve, delivered a moment to remember during Game 5. With tensions high, Altuve blasted a three-run home run against the Rangers' ace closer, José Leclerc. This hit sealed a narrow 5-4 win for the Astros, sending waves of joy throughout Houston.
Reflecting on the match, Astros' mainstay, Alex Bregman, said, "This was truly one for the record books. We're honored to have pulled off a win against such tough competition."
Game 5 was nothing short of a spectacle, with both teams emotionally charged. In the midst of the action, an on-field dispute resulted in the ejection of two players and the Astros' skipper, Dusty Baker. However, it's in these high-pressure situations that the best step up. Altuve, with his latest homer, added to his impressive playoff tally, underlining his reputation in decisive moments. Altuve reflected, "These are the moments we live for in the game."
Success, though, is a team endeavor. Ryan Pressly, the trusty Astros' closer, demonstrated composure, making sure the Rangers were kept in check and amplifying Altuve's significant contribution.
The Rangers, on the other hand, proved their worth, staging a powerful comeback. One of their standout moments was Adolis García's captivating three-run homer during the sixth inning. The intensity of the game saw emotions boil over, leading to additional ejections.
In true championship fashion, the Astros mounted a comeback the final inning. Exceptional plays by Yainer Diaz and Jon Singleton set the stage for Altuve's iconic hit, with the ball soaring over the left-field fence, much to the delight of the Astros' supporters.
For the loyal readers of Houston Style Magazine and Astros fans around the world, the excitement for the upcoming World Series is undeniable. As Bregman aptly said, "Our goal is simple – give everything and claim the championship." The city of Houston is abuzz with excitement, as they keenly look forward to the team's next chapter.
For more info, visit www.MLB.COM/ASTROS.