Vamekia and Vatrecia Triumph Over Cancer – Houston's Inspirational Duo Defies Odds In Shared Battle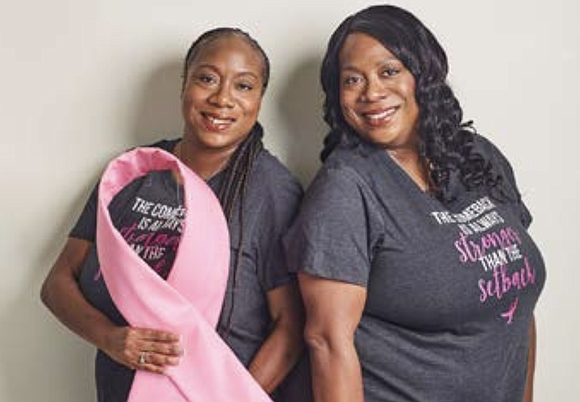 In the heart of Houston, two resilient spirits stand tall, showing the world what true courage and unity look like. Vamekia and Vatrecia Gayfield, identical twins, have weathered many storms together. Their most challenging battle was with breast cancer, diagnosed only four months apart. Today, they wear their survivor badges with honor, reminding everyone of the power of sister- hood and early detection.
Vamekia, older by just three minutes, loves to jest about her slight age ad- vantage. But when it came to their health journey, it was Vatrecia who first faced the diagnosis in December 2021. What began as a small discomfort led her to Harris Health services, where a mammogram revealed the harsh reality. "When the biopsy came in, I realized life was about to take a turn," Vatrecia expressed.
While she prepared for a Belize getaway, her stage 3 breast cancer diag- nosis demanded immediate attention. Six rigorous months of chemotherapy followed her return to Houston, marked by hurdles like heart complications and a subsequent hysterectomy.
In a twist of fate, Vamekia, too, discovered signs of breast cancer by March 2022. Diagnosed with stage 1, the duo braced themselves for a shared battle. Amidst this turbulence, Vamekia shared uplifting news - she was expecting! "Know- ing I was about to become an aunt gave me strength," said Vatrecia. Little Ryan Kinsley Gayfield's arrival in December was a beacon of hope amidst their challenges.
Their shared experience brought the twins even closer. Vamekia recalled, "We always had each other's backs, but this journey deepened our bond." With a family history linked to the BRCA gene, the sisters were proactive about their health, undergoing hysterectomies to reduce future risks. For Vatrecia, this decision was heart-wrenching, "It was a tough choice, especially as I don't have children. But it was a step towards a healthier future."
This October, the Gayfield twins are set to be the stars at Harris Health's Pink Out at Smith Clinic. An event dedicated to breast cancer survivors, it not only celebrates their resilience but also raises awareness for early detection. As the Smith Clinic bathes in pink lights for National Breast Cancer Awareness Month, Vamekia and Vatrecia will stand hand in hand, epit- omizing hope and unity.
For readers of the Houston Style Magazine, their story is a testament to the importance of regular check-ups and the indomitable strength of familial bonds.
Embrace your loved ones, schedule that overdue screening, and remember - in unity, there's strength.