Miracle Laughs Are Seen and Heard At the Alley's "An Act of God"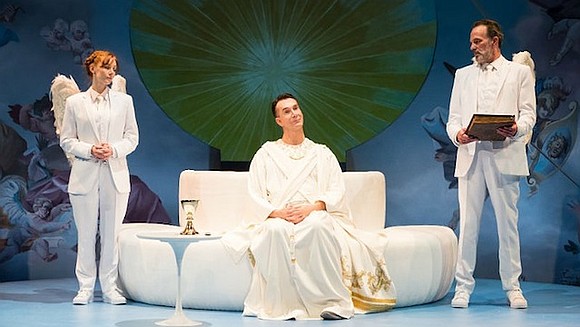 The Alley's Theatre's "An Act of God" is a rowdy, hilarious farce of a play centering on God and its very comedic view of mankind. This one act play written and created by playwright David Javerbaum addresses many views we have on the modern world today regarding God and religion.
Expect a 90-minute conversation in which a few mysteries of the Bible are uncovered and some existential questions that plague mankind are answered. I must warn you that in no way is this play to be taken seriously and if you're easily offended then this is not the play for you. Controversial topics addressed in this play include race, sexual orientation, politics, science, life, and death.
"An Act of God" stars lead actor and Alley Theater favorite Todd Waite as God himself, archangel Michael played by Emily Trask, and archangel Gabriel played by John Fletch.
Audience favorite and Julliard alum, Todd Waite, gives an impressively memorable performance as God. He received a well-deserved standing ovation on opening night. Waite, a seasoned and talented actor, no doubt has been with the Alley Theatre for over sixteen years. John Feltch, another highly acclaimed actor of the Alley Theatre, rarely disappoints either as he appears as an impassive and inscrutable Angel Gabriel. Newcomer and Yale graduate Emily Trask's performance was a delight in her second season as she brought to the stage sarcasm. Her character Arch Angel Michael often challenges God and the audience on his provocative and senseless decisions.

There are a few bits for audience participation. That is what makes this production lively and even more fun. Who doesn't want to be part of this animated and high-spirited cast!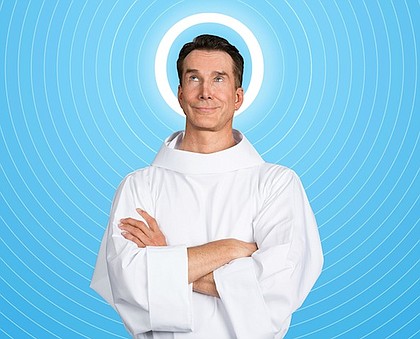 If you have never heard of David Javerbaum you are definitely familiar with his work. Javerbaum is an American comedy writer that has won 13 Emmy Awards in his career. He has also worked on The Daily Show with Jon Stewart and has written "Our Dumb Century," a New York Times bestseller. If you love his comedic take on God then be sure to check out Javerbaum's popular Twitter account @TheTweetOfGod, which actually served as the basis for this very play, "An Act of God," which first opened in New York on Broadway in the spring of 2015. The Alley Theatre is thrilled to bring this new, and recklessly funny play to Houston audiences.
If you have a dark sense of humor about politics and God you won't want to miss this show! It's an hour and a half of pure comedy heaven.
"An Act of God" is currently showing at the Alley Theatre through April 16th. Purchase tickets while the show is here by visiting https://www.alleytheatre.org/plays/production-detail/an-act-of-god.