Democrats Target Black Voters as Money Pours Into Georgia House Race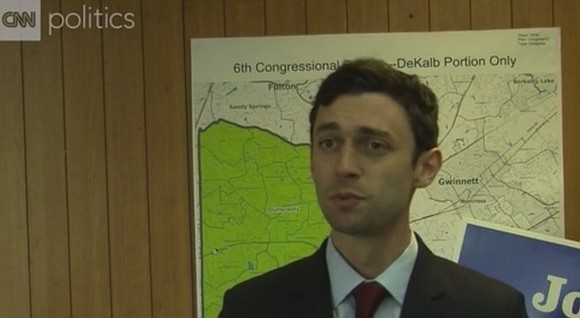 By Eric Bradner
CNN
WASHINGTON (CNN) -- Democrats are trying to make sure African-American voters don't sit out a closely watched special election by casting the Georgia House race as an opportunity to rebuke President Donald Trump.
The Democratic Congressional Campaign Committee is making a six-figure ad buy on all seven of Atlanta's black radio stations -- as well as those stations' websites and mobile streaming services -- as part of a major push to help Democrat Jon Ossoff emerge from an 18-candidate field in the April 18 contest in the city's northern suburbs. The radio ad buy also includes five figures on get-out-the-vote ads on Pandora.
The ad calls on listeners to "send a clear message to Donald Trump that racism and intolerance are never OK."
The move comes as money pours into Georgia's 6th District, in the northern Atlanta suburbs, with a GOP super PAC and the liberal MoveOn.org launching new ads Monday.
It's one of four special elections to fill House seats vacated by President Donald Trump's Cabinet picks. And -- while Republicans are nervous about a Tuesday contest in a reliably red district in Kansas -- it is, operatives on both sides say, by far Democrats' best chance to pick off a seat. An Ossoff win there, in the district represented until recently by new Health and Human Services Secretary Tom Price and, previously, by Newt Gingrich, would buoy an already energized Democratic base and be seen nationally as a rebuke of Trump's presidency.
The Georgia contest is a "jungle primary" -- which means candidates of all parties, including 11 Republicans, are competing April 18. The top two would advance to a runoff. But if Ossoff tops 50%, he'd win outright -- something Democrats are hoping to see happen given the district's fractured Republican field.
The higher education levels and diversity in Georgia's 6th District are characteristics that make it a prime Democratic target.
But black voters have made up just 6.9% of the vote over the last four Democratic primaries in the district, compared with 10.6% of the last three general elections, the DCCC said. Democrats see African-Americans as a crucial voting bloc that Ossoff can't afford to see stay home.
The DCCC is also dropping mail focused on the frequency of voters' participation in elections, and deploying 210 precinct captains to lead volunteers and reach 300 to 400 voters each in their districts, the committee said in a memo first obtained by CNN.
Its new investment is of about $250,000. It comes on top of an eight-person field team sent to Georgia in early March that has now trained and leads Ossoff's field team of more than 70 paid staffers. One of the DCCC's original hires is now Ossoff's field director -- underscoring the party's role in helping him build a field operation as Republicans continue a battle between former secretary of state Karen Handel, Dan Moody, Judson Hill and eight other contenders.
Democrats have led in vote-by-mail and early voting, the DCCC said.