Passenger Dragged Off Overbooked United Flight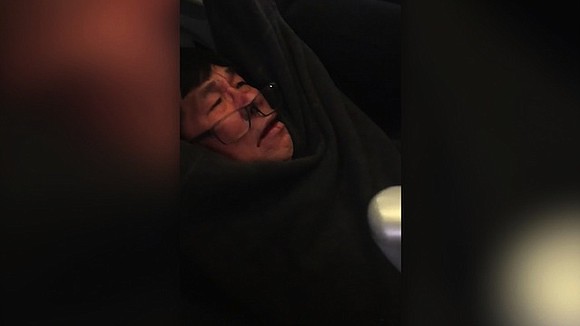 By Christina Zdanowicz and Emanuella Grinberg
CNN
(CNN) -- A man's refusal to give up his seat on an overbooked United Airlines flight led to a disturbing scene Sunday that has travelers up in arms over airline policies.
The Department of Transportation said it will review the incident, in which a passenger was forcibly removed from the Louisville, Kentucky-bound United flight 3411 at Chicago O'Hare International Airport.
The incident has prompted one security officer's suspension and created a publicity nightmare for United.
Several passengers recorded the incident on their phones and posted video on social media showing three Chicago Department of Aviation security officers dragging the man, who has not been identified, down the aisle by the arms and legs while other passengers shout in protest.
"It was very traumatic," passenger Jade Kelley, who was seated across the aisle from the man, told CNN. Officers asked her to move to the back of the plane before removing the passenger so she did not witness the entire event. But she said the sound of the screams still haunt her.
"It was horrible. I had trouble sleeping last night and hearing the video again gives me chills."
An 'involuntary de-boarding situation'
The incident has sparked criticism of a system that allows airlines to involuntarily boot passengers from flights. United was acting within their rights and going by the book, to a point. Then, the situation turned physical.
United asked passengers to give up their seats voluntarily for compensation. Four crew members needed to get on the flight in order to work another one in Louisville or else that flight would be canceled, airline spokeswoman Maddie King said.
When no one volunteered, the airline was forced into an "involuntary de-boarding situation," airline spokesman Charlie Hobart said.
United used a system that weighs a number of factors to determine which passengers would leave the flight, such as connecting flights and how long the delay will leave the customer at an airport, Hobart said.
United employees explained the situation to the man several times, Hobart said. When he refused they followed Department of Transportation protocol and called local law enforcement to forcibly remove him from the plane.
Passenger Tyler Bridges said it was easy to understand why there were no volunteers. It was Sunday night and the next flight was not until the following afternoon.
Bridges said two officers tried to calmly talk the man out of his seat before a third approached him in an aggressive manner. The officer told him he had to get off the plane, and when he resisted, the officer grabbed him out of his seat .
The man hit his head on an armrest and yelled that he was a doctor and that he was being profiled for being Chinese, Bridges said. The scene left everyone unsettled, including children who started crying.
"It was pretty shocking that it got to the level that it got to. In part that's the man's fault, when the police came on he shouldn't have resisted, he should have just left. But it was a pretty unbelievable scene with them grabbing him and pulling off," he said.