Artist's Sketches Convey Struggles of Eating Disorder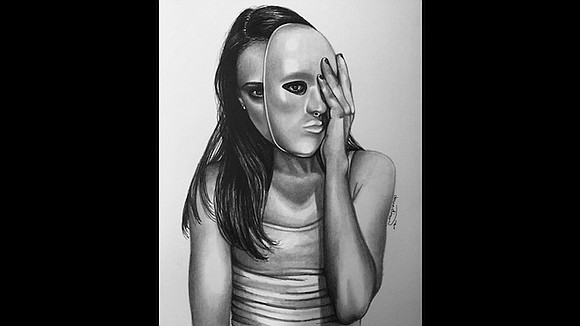 By Robert Jimison
CNN
(CNN) -- When a feeling that her life was out of control developed into a severe eating disorder, Jenna Simon found solace in art.
Simon started drawing as a child, doodling on napkins during dinner. After extreme dieting developed into bulimia at age 18, she ended up seeking professional treatment. In her spare time, she would draw sketches of celebrities and landscapes. But when she became frustrated with her therapy sessions, Simon struggled to find a way to describe what she was feeling -- so she drew it.
"I showed it to my therapist, and she was like, 'This is amazing. ... People would relate to this,'" said Simon, now 29.
Simon continued to draw, mostly for herself, until two years later, when the images she shared on Facebook started to go viral. Vivid sketches of herself trying to cover her tears with a smiling mask captured the attention of many.
Combining her experiences, talent and educational background in art therapy, Simon continued to share drawings in hopes of telling those struggling with an eating disorder that someone understood what they were experiencing. That catharsis of artistic expression guides her as her own recovery continues.
Evolution of an eating disorder
Growing up in the suburbs of Princeton, New Jersey, Simon said she was exposed to a variety of abusive situations.
"As a child, I suffered trauma, physically and sexually by people I shouldn't have had any reason to fear," she said.
To escape, she turned to dance. Ballet was her "first love." And for years, she gave everything she had to perfect the art, practicing 40 hours a week and sometimes coming home to practice even more.
"I needed something that was mine. I needed something that I could just have for me, and I wanted it to be dance," she said.
Dance companies' height and weight preferences can vary, but traditionally, dancers have tall and slender frames. Unfortunately for Simon, her height proved an obstacle into the world of professional dance.
"I was really short; I'm still short. I'm 5'1", so even at 15, you're aware that's not something you have control over," Simon said.
While in high school, she continued to pursue performance art, doing her best to compensate for her height with a slim frame. Inspired by older dancers who ate nothing but salads for lunch, Simon began to watch what she ate and count calories more closely.
As Simon continued down this path, her behaviors evolved to include vomiting and abusing laxatives. "By the time I was a junior or senior in high school, I started eating whatever and throwing it up."
She began therapy, but when she moved to Philadelphia for college, things just got worse. And because she was an hour's drive from home, her parents were not fully aware of the situation.
"I think it took my parents at least four or five years to figure out what I was doing, especially because a lot of it, I did in college," the New Jersey resident said.