Hispanicize 2017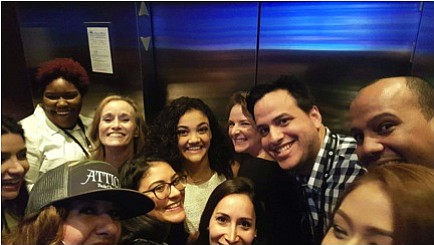 From Houston to Miami, #TeamStyleMag was upfront and center for this year's Hispanicize conference, which is the largest annual event for Latino trendsetters and newsmakers in digital content creation, journalism, marketing, entertainment, and tech entrepreneurship. Held from April 3 – April 6 at the downtown JW Marriott Marquis, Hispanicize was definitely the place to be for the who's who of Latino influencers.
From informative sessions such as "harnessing your strengths to build your digital brand" to "multicultural marketing fireside chats" with Pepsico. Hispanicize definitely had much to offer for those wanting to learn how to elevate their brand.
This year, components of Hispanicize included the CMO Summit, which featured:
• Keynote address: Richard Edelman, President/CEO, Edelman
• DishLATINO – A 360-View of the Nation's No. 1 US Hispanic Advertiser's #SigueHaciendola Campaign
• Pepsico – Fireside Chat with Richard Montanez, Director of Multicultural Sales and Marketing – North America, Pepsico
• State of Multicultural Marketing Brands Town Hall Panel featuring, Prudential, DishLATINO, United Airlines and the Atlanta Hawks
• Keynote address: Evelyn Miralles, Principal Engineer and lead VR innovator for NASA's Virtual Reality Laboratory
• Cicis – How Focusing on Hispanic Consumers Literally Turned Around a National Pizza Chain
• Wells Fargo – It's not Total Market, it's just marketing
One of the sessions we found most informative was with Comcast Corporation's Javier Garcia, SVP and General Manager of Multicultural Services, and José Vélez-Silva, Vice President of Multicultural Marketing Communications. Moderated by Borja Perez, Senior Vice President, Digital and Social Media at NBCUniversal Telemundo Enterprises, the session focused on the power of technology to enable immersive experiences for bicultural Latinos beyond language.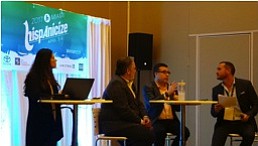 And while Hispanicize 2017 presented many informative mini sessions such as those previously referenced, there were also some pretty fun hands on types of events to kick off Hispanicize week. Curated by DiMe Media, the ¡DiMe! one-day influencer summit was a creator's dream playground come to life. With interactive workshops on creative writing, photography, shooting and editing videos, branding, and social media, this jam-packed event provided plenty of opportunity for learning and networking with influencers. Oh, and it was here that we got to spend an afternoon with the good people of Walt Disney World and our good friends at Jack Daniels!
Hispanicize's Positive Impact Awards, sponsored by Prudential Financial, honored Hispanic Americans that do outstanding work in their communities. Over the past two years, 25 Latinos from all corners of the United States have been honored. Congratulations to this year's winners, Dante Alvarado-Leon, Luis Gutierrez, Felipe Pinzon, and Roxane Hara. Congratulations!
The 3rd Annual Tecla Awards, co-produced by Hispanicize and DiMe Media Network, honored those that have excelled in U.S. Latino online video, blogging, media, marketing and those who create it. And while we definitely congratulate all of this year's winners, a special congrats goes to Yvonne Guidry of Houston! Yvonne, founder of the popular life-style blog, SpoiledLatina.com, was awarded this year's Top Lifestyle and Entertainer Creator Award.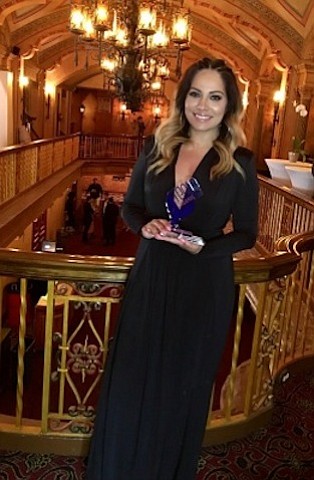 Conferences and award shows wouldn't be complete without some star power! Hispanicize Media Group and Spanish Broadcasting System, Inc. (SBS),a leading Hispanic media company, and its digital streaming and entertainment service, LaMusica, partnered with Colombian superstar Juanes for a special advance screening and preview concert for his upcoming visual album 'Mis Planes Son Amarte'. The film screening was followed by a special waterfront concert.
We also caught up with Olympic Gold Medalist, Laurie Hernandez, who received the 2017 Latinovator award. Oh, and when we say caught up – we were literally crammed in an elevator for quite some time with Laurie so what better things to do than to take a few elevator selfies! And if you're a fan of USA Network's Queen of the South based on the best-selling novel "La Reina del Sur", like we are – well, yes, we caught up with the one and only Veronica Falcon who plays Camila Vargas. We love her character's evil ways!
To touch base on the current hot-topics regarding the policies of the current administration, Hispanicize 2017 and the National Association of Hispanic Journalists (NAHJ) are joined forces to present a fireside chat about leadership and community movement strategies with civil rights icon and Rainbow PUSH President the Rev. Jesse Jackson, Sr.
Adios. Until 2018 when we Hispanicize again!