Man Dragged off United flight Has Concussion, Will File Suit, Lawyer Says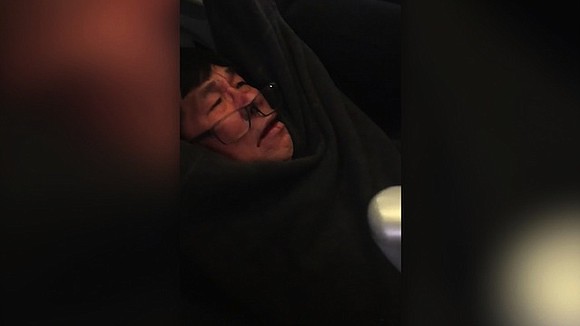 By Thursday, United conceded that the flight was not overbooked or oversold, despite its initial claim. It had no empty seats and four crew members needed to get on the plane to meet another flight in Louisville.
"There's really no word for it," said spokeswoman Megan McCarthy, who attributed the confusion to the airline's own understanding of what unfolded on the flight as it gathered additional facts.
Passengers back Dao
The airline offered compensation at first, but when that didn't convince enough passengers to take a later flight, it picked Dao randomly.
Passenger Jayse Anspach told CNN that Dao and his wife initially agreed to take a later flight but recanted upon learning that this flight wouldn't take off till Monday morning.
"He was very emphatic: 'I can't be late. I'm a doctor. I've got to be there tomorrow,' " Anspach recalled.
In video shot by Joya and Forest Cummings, who were sitting behind him, Dao repeatedly refuses to disembark, explaining he is a physician and must work in the morning. (Demetrio told reporters Thursday that Dao's wife is a doctor as well and also had patients to see Monday.)
The Cummingses said Dao was not belligerent and got only mildly upset when a second security officer arrived, demanding he leave the plane, they said. Dao never raised his voice, the couple said.
As security officers pry Dao from his seat, he screams. In video shot after the altercation, streaks of dry blood run from the Kentucky doctor's mouth. Passengers said he hit his head on an armrest.
Did CEO misspeak?
United Airlines CEO Oscar Munoz initially said Dao was belligerent, leaving security officers no choice but to employ force in removing him.
Munoz later struck a tone of contrition, telling ABC's "Good Morning America" on Wednesday that he felt "ashamed" over the incident and vowed never again to let law enforcement remove "a booked, paid, seated passenger" from a plane.
As for Munoz's earlier claim that Dao was at fault due to his belligerence, the CEO changed his heading, telling the morning show, "He can't be. He was a paying passenger sitting on our seat in our aircraft, and no one should be treated like that. Period."
Though Munoz said he attempted to contact the Dao and his wife, Demetrio said he feels Munoz "misspoke," adding that that didn't happen. As for Munoz's public apology, Demetrio said he accepted it, but it felt "staged."
"I'm not looking for a telephone conversation with Mr. Munoz," he said. "I'd rather he spend his time changing the culture of United Airlines."
United released a statement after Demetrio's news conference saying again that Munoz and United had "called Dr. Dao on numerous occasions to express our heartfelt and deepest apologies."
Officers' fate uncertain
Three Chicago Department of Aviation officers are on paid leave following the incident, and the airline's stock plummeted amid boycott threats.
The officers are supposed to serve as a first line of defense, by assessing and containing the scene before police arrive. The unarmed security officers receive about half the number of standard training hours as Chicago police officers, who are armed.