Xi Alpha Omega's Party with a Purpose to Support Students with Backpacks and School Supplies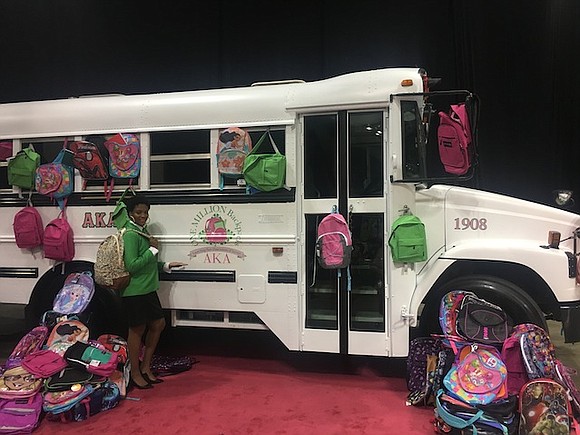 The One Million Backpacks Committee, chaired by Ava Logans Clark, of the Xi Alpha Omega (XAO) Chapter of Alpha Kappa Alpha (AKA) Sorority, Incorporated has been hard at work collecting backpacks and filling them with school supplies to help children in our communities to be successful in school. Since the implementation of the AKA One Million Backpacks initiative under Target I: Educational Enrichment on the international program Launching New Dimensiona of Service, which spans over a four-year period (2014-2018), members have been asked to donate at least five backpacks each or make monetary donations to this worthy cause. The response has been great.

The Committee also held a "Day Party" in March to encourage more donations, while members, family, and friends danced "the day away" at Leon's Lounge to music provided by a jamming DJ. Backpacks, hand sanitizers, pens, pencils, paper, glue sticks, and other school supplies were generously given, along with monetary donations.
Under the leadership of XAO president, Tracey Lewis, 100 backpacks filled with school supplies collected through mid-March were transported to the 2017 South Central Regional Conference in Shreveport, Louisiana and donated to school children in need during the area-wide AKA Community Service Day.
The Committee is not finished yet! We will continue to refill our coffers in preparation for our Annual Back-to-School Drive to be held in August 2017. Be on the lookout for "Save the Date" cards coming soon. We are serious about helping our beloved Alpha Kappa Alpha Sorority, Incorporated reach our goal of distributing 1,000,000+ backpacks in our communities throughout the nation. We know the members of Xi Alpha Omega will do our part to keep those backpacks, school supplies, and monetary donations coming in as we continue in our quest to "be of service to all mankind".
For more information, contact Tracey Lewis, President, Xi Alpha Omega at president@xialphaomega.com or visit Xi Alpha Omega's website at www.xialphaomega.com.