The Rise And Fall Of Aaron Hernandez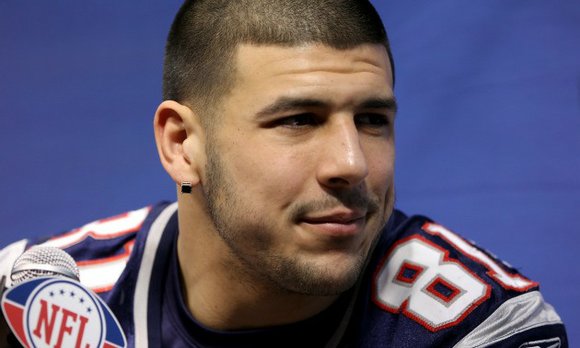 (CNN) -- A few short years ago, Aaron Hernandez was destined to be a football superstar and was already one of the NFL's most promising tight ends.
On Wednesday morning, the man who seemed to have everything hanged himself in a jail cell where he was serving a life sentence for the 2013 murder of his friend Odin Lloyd.
Hernandez's death came just a week after he was acquitted of separate double murder charges stemming from a drive-by shooting in 2012.
Friends and fans alike have wondered for a long time now: How could a Super Bowl star for one of the league's top franchises fall so far into a life of killing and deceit?
A hometown 'golden boy'
Long before Hernandez made national headlines, he was a standout athlete in Bristol, Connecticut, who came from a family described as a local sports dynasty.
"I don't think there was another family that was more familiar in Bristol," Bob Montgomery, who covers high school sports for the Bristol Press, told CNN.
The young Hernandez was the "golden boy," playing football, basketball and running track, following in the footsteps of his uncle, older brother and father -- all well-known athletes in the community.
Hernandez's father constantly pushed his son, requiring him to practice for hours before he could go out with friends.
"I saw a closeness with them that I'd never seen before," Montgomery said of the relationship between Hernandez and his father.
A tragic loss leads to problems
But his father, the man who kept the 16-year-old anchored, died in 2006 from complications after a routine hernia surgery.
Hernandez left high school halfway through his senior year in January 2007 to join the University of Florida Gators, and trouble seemed to follow.
In just his first semester, a police report says Hernandez got into a fight at an off-campus restaurant, sucker-punching the manager and rupturing his eardrum.
The following fall, there was a shooting near a local club. Police reports link Hernandez and several other University of Florida football players to an argument in the parking lot.
Hernandez was one of more than 20 people interviewed by police, and he was the only one who did not make a statement after invoking his right to counsel.
At the time, Hernandez's mother told the Orlando Sentinel newspaper, "I know he was at the club, but he never saw any shooting."
The case remains open, and no one has been charged.
Hernandez was also suspended at least once for marijuana, an issue that would follow him as he entered the draft his junior year.
A chance to be an NFL star
In 2010, despite his legal problems, Hernandez decided to skip his senior year at Florida and turn pro. Trying to put the alleged drug use behind him, Hernandez wrote a letter to the Patriots director of personnel.
"If you draft me as a member of the New England Patriots, I will willfully submit to a bi-weekly drug test throughout my rookie season. ... In addition, I will tie any guaranteed portion of my 2010 compensation to these drug tests and reimburse the team a pro-rata amount for any failed drug test," he wrote, according to the Boston Globe.