NIH Study Shows Exercise May Lower Risk of High Blood Pressure In African Americans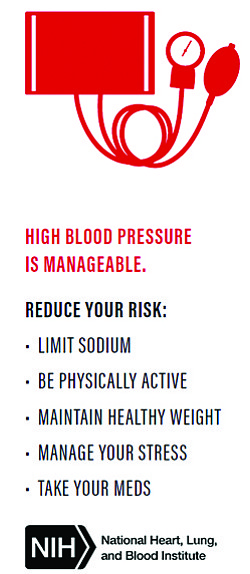 Researchers who study cardiovascular health have long known that exercise is one way to keep high blood pressure at bay. But studies confirming this protective effect have mainly focused on white patients, leaving it unclear whether African Americans, the most vulnerable of all populations, have stood to gain in similar ways.
In a new study, researchers are reporting the strongest evidence to date that moderate to vigorous exercise, when done regularly, can help reduce the risk of hypertension in African Americans. The study, which was published in the journal Hypertension, was funded by the National Heart, Lung, and Blood Institute (NHLBI) and the National Institute on Minority Health and Health Disparities (NIMHD). Both are part of the National Institutes of Health (NIH).
"Although the protective effect of exercise had been well-documented in white populations, it really had not been clearly demonstrated for African Americans," said study co-author Nicole Redmond, M.D., Ph.D., M.P.H., a medical officer with the Division of Cardiovascular Sciences at NHLBI. "This is a wake-up call to African Americans about the need for regular exercise and its importance in preventing high blood pressure."
"The good news," she added, "is that hypertension is a health problem that is both preventable and treatable."
African Americans have the highest rate of high blood pressure over any other racial or ethnic group in the United States – as much as 50 percent higher than whites and Hispanics. And the fallout is profound: High blood pressure greatly raises the risk for heart attack, stroke and kidney disease, and when uncontrolled, it can lead to death.
Yet, while health care providers have long recommended exercise as one way to keep this potentially debilitating condition at bay, researchers have never closely studied the specific impact of exercise on the population most vulnerable to it. Until now.
For the observational study, Redmond and her fellow researchers followed 1,311 men and women who are participants in the Jackson Heart Study, the largest, community-based study of cardiovascular disease and its risk factors in African Americans. The participants were, on average, in their late 40s when the Jackson, Miss.-based study began in 2000. None of them had hypertension at the time. The participants were then followed for eight years and surveyed about their physical activities throughout.
At the end of the study period, the researchers found that nearly 50 percent of the participants had developed hypertension. But those who reported higher levels of moderate to vigorous physical activity had a significantly lower risk of hypertension, compared to those who did not exercise at all. Specifically, those who reported intermediate levels of physical activity – less than the recommended 150 minutes per week of moderate-intensity exercise based on the Physical Activity Guidelines for Americans – had a 16 percent lower rate of hypertension, while those who reported ideal levels of physical activity – an average of 150 minutes a week of moderate-intensity exercise or at least 75 minutes per week of vigorous exercise – had a 24 percent lower rate, the study showed.
"We've long known that exercise is an important part of controlling blood pressure," said Redmond. "Now, thanks to this invaluable finding from the Jackson Heart Study, we can say that the same applies to African American men and women. It's a potentially lifesaving message that everyone needs to follow."