Xi Alpha Omega AKAs Joins the Houston Rockets for a Night of Celebration - Pearls and Basketball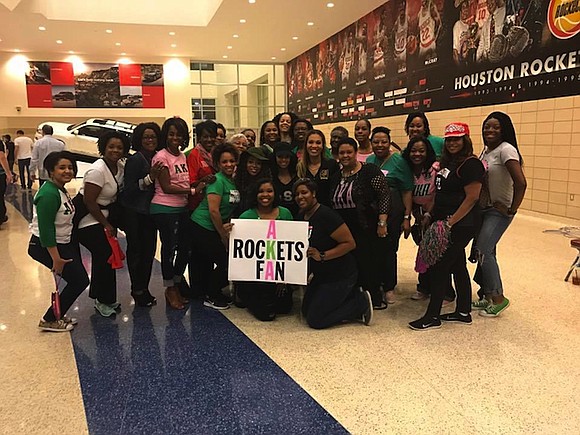 The excitement was high at the recent Houston Rockets vs. the Denver Nuggets and the members of Xi Alpha Omega Chapter of Alpha Kappa Alpha Sorority, Incorporated were part of the celebration in big numbers. Over 65 members had a enjoy a night that combined sisterhood, fun, pearls, and, of course, basketball.
Xi Alpha Omega's (XAO) ¬Sisterly Relations Committee, chaired by Tiffany Moody, hosted the "Pearls and Basketball" event at the Houston Toyota Center to foster sisterly relations among the members. As their families and friends looked on, the group became more than just fans but active participators. Ladies got a close-up view of the players during the Pre-game "Shoot Around," where they got a court-side view of the Rockets and Nuggets players shooting and preparing for the game. At the start of the game, four members participated in the High-five Experience where they were allowed on the court, watched the Rockets entire bench warm-up, stood behind the players while singing the national anthem, and high-fived each of the starters (including James Harden, candidate for the 2017 National Basketball Association Most Valuable Player Award) as they came off the bench and entered the court. At half-time, four members participated in the High-five Experience for the Denver Nuggets players, who were high-fived as they returned to the court ready to start the second half of the game.
As a continuation of the Rockets 50-year celebration, Rockets' Legend and Hall of Famer Tracy McGrady was honored during the game. XAO, along with thousands of other fans, cheered on the Rockets who walked away with a victory, 110-104.What a way to end the evening with a Rockets win. Go Rockets!
For more information, contact Tracey Lewis, President, Xi Alpha Omega at president@xialphaomega.com or visit Xi Alpha Omega's website at www.xialphaomega.com.