Trump's 100-day Score Card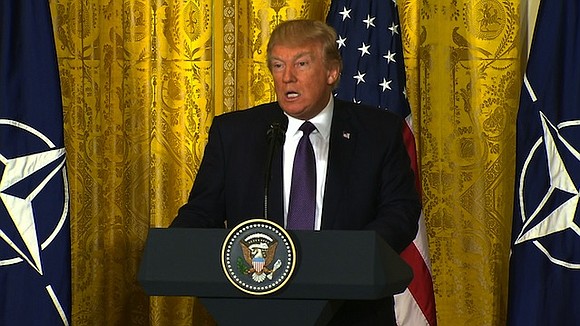 By Kevin Liptak
CNN White House Producer
(CNN) -- Donald Trump, in the final stretch of last year's campaign, spelled out what he hoped to accomplish in his first 100 days in office.
"I am asking the American people to rise above the noise and the clutter of our broken politics, and to embrace that great faith and optimism that has always been the central ingredient in the American character. I am asking you to dream big," Trump said, laying out his plan during remarks in Gettysburg, Pennsylvania.
So how has Trump fared? Here's a status update one where his Contract with the American Voter stands:
6 measures to clean up the corruption and special interest collusion in Washington
FIRST: propose a constitutional amendment to impose term limits on all members of Congress.
STATUS: UNFULFILLED. Trump has not proposed such an amendment, though two Republicans in Congress -- Sen. Ted Cruz and Rep. Ron DeSantis -- proposed such a measure before Trump took office. Trump has not remarked at length about this amendment since taking office.
SECOND: a hiring freeze on all federal employees to reduce the federal workforce through attrition (exempting military, public safety, and public health).
STATUS: FULFILLED, BUT LIFTED. Trump signed an executive action enforcing a hiring freeze in January, but it was lifted a few months later, in April.
THIRD: a requirement that for every new federal regulation, two existing regulations must be eliminated.
STATUS: FULFILLED. Trump signed an executive order in January requiring two regulations be eliminated for every new regulation signed.
FOURTH: a five-year ban on White House and congressional officials becoming lobbyists after they leave government service.
STATUS: PARTIALLY FULFILLED. Trump signed an executive order placing the lobbying ban on administration officials but not on congressional officials.
FIFTH: a lifetime ban on White House officials lobbying on behalf of a foreign government.
STATUS: FULFILLED. The same executive order that placed the five-year ban also prohibited all lobbying on behalf of foreign governments.
SIXTH: a complete ban on foreign lobbyists raising money for American elections.
STATUS: UNFULFILLED. Trump's executive order on lobbying did not contain provisions for current foreign lobbyists.
7 actions to protect American workers
FIRST: I will announce my intention to renegotiate NAFTA or withdraw from the deal under Article 2205.
STATUS: UNFULFILLED. While Trump still vows to renegotiate NAFTA during public remarks, he has not yet formally begun the renegotiation process. His nominee for US trade representative has not yet been confirmed.
SECOND: I will announce our withdrawal from the Trans-Pacific Partnership.
STATUS: FULFILLED. Trump signed a presidential memo in January withdrawing the US from the TPP.
THIRD: I will direct the secretary of the treasury to label China a currency manipulator.
STATUS: UNFULFILLED. Trump has reversed course on China's currency status, telling The Wall Street Journal that China is not a currency manipulator. China was not labeled as such by the Treasury Department in a report this month.
FOURTH: I will direct the secretary of commerce and US trade representative to identify all foreign trading abuses that unfairly impact American workers and direct them to use every tool under American and international law to end those abuses immediately.