Strong Thunderstorms May Rumble Through This Weekend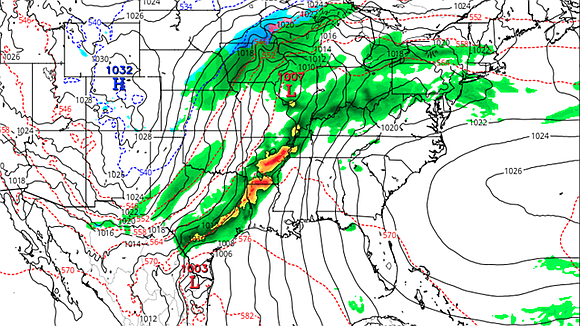 HOUSTON - There's zero chance of 'Thunder' for tonight's Rockets game but that may be changing for real heading into Saturday night into Sunday morning early.
Models the last few days have been hinting at the possibility of a powerful low pressure area developing lee of the Rockies on Friday and moving across Kansas and Missouri Saturday into Sunday. Not only does the threat of a widespread severe weather outbreak look possible from east Texas into Arkansas and Missouri but so does a rare late April snow for the Texas panhandle.
As illustrated, the model is consistent with bring a line of showers and thunderstorms through Houston late Saturday night into early Sunday morning and then clearing rapidly into Sunday afternoon. At this time there is a great deal of uncertainty of just how strong these thunderstorms could be but the potential exists for wind, hail and tornadoes.
The Storm Prediction Center out of Normal, Oklahoma has already hatched an area mainly north and east of Houston for the possibility of severe storms by the weekend seen above. This would include areas mainly from around Lufkin to Shreveport.
April and May are prime times for severe weather given the changing seasons. It's a bit too far out to begin pegging details but let it serve as a reminder that the possibility does exist for rough weather heading into the weekend.
Based on projected atmospheric conditions through Skew-T diagrams (basically a 3D look at the atmosphere) conditions only appear marginal for severe weather here locally with a very saturated conditions high up in the mid-levels. For severe weather you'd like to see very dry conditions in the mid-levels.
Either way this is something the KHOU weather team is monitoring closely and we'll bring you another update as we know more.
For more information go to http://www.khou.com