Book Hopes to Shed Light to Readers About Kingdom of God
Author Ty Allen Ed. D's 'The Kingdom of God in the 21st Century' addresses Jesus' self designation as 'Son of Man'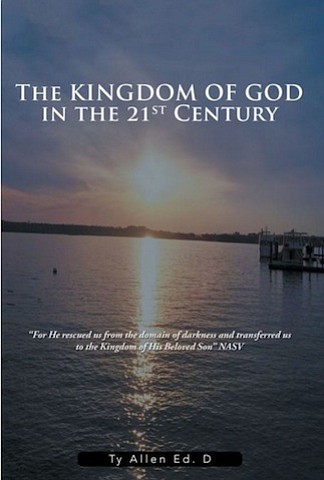 BELTSVILLE, Md. – Author Ty Allen Ed. D's book, "The Kingdom of God in the 21st Century" (published by Xlibris), is an outgrowth of his thesis discussion on the "Son of Man." He began to be intrigued by this discussion while attending Pepperdine University under the late Dr. Frank Pack, who was then chair of religion. His wife Denise shares thoughts on key women of the Bible, Sarah, Bathsheba, Mary, Jesus mother and Mary of Magdala's contribution to the Kingdom of God. This book on the kingdom of God also represents a topic that spans the more than 35 years of the Allen's walk with Christ.
The kingdom of God has a long history as a religious discussion of Jesus' model prayer, "Thy Kingdom Come." The Chaos which Satan started in heaven produced God's response at the Cross (Rev 12; 7-10) and the announcement of the Kingdom for those who will be saved. In his early ministry, Jesus announced, "Repent, for the Kingdom of Heaven is at hand, the Kingdom started upon His resurrection in Jerusalem at Pentecost 33 ad." He adds, "The present reign of Jesus as Lord and Christ for us in the Kingdom of God conflict against Satan is framed in the understanding of four Old Testament biblical characters, Abraham, Moses, David and Elijah, as each of them are referenced by Jesus in his ministry."
"The book addresses the 'why' of our existence on earth, and how daily decisions influence and impact our modern world and its destiny," says Allen. "American Christianity creates more difficulties, it divides people and practices which Satan loves."
The author hopes to further knowledge, to deepen devotion and to renew confidence, or hope in some meaningful aspect in human life. He also wishes to shed some light to the readers about the single most important and contemporary theme in all of the sacred text, the kingdom of God.