Timeline of Donald Trump Jr.'s Meeting Revelations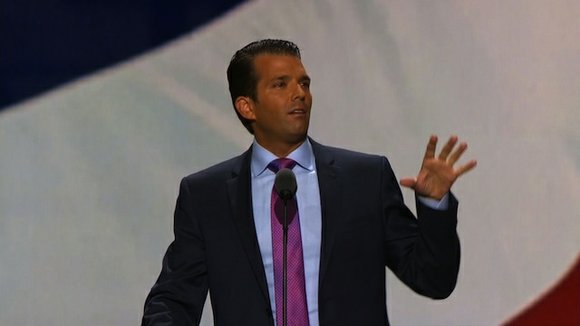 CNN Staff
(CNN) -- New revelations about Donald Trump Jr.'s meeting in June 2016 with a Russian lawyer have rocketed the President's eldest son to the center of allegations of collusion with Russia.
Here's a look back at the steady drip of disclosures and shifting statements from Trump Jr. and others involved -- which have triggered a mounting list of questions.
July 8
First New York Times story breaks
The New York Times breaks the news that Donald Trump Jr. "arranged a meeting at Trump Tower in Manhattan with a Russian lawyer who has connections to the Kremlin." The Times cites interviews and documents, which were outlined by people familiar with them.
Trump Jr. doesn't disclose meeting's full purpose
His statement: "It was a short introductory meeting. I asked Jared (Kushner) and Paul (Manafort) to stop by. We primarily discussed a program about the adoption of Russian children that was active and popular with American families years ago and was since ended by the Russian government, but it was not a campaign issue at the time and there was no follow up."
"I was asked to attend the meeting by an acquaintance, but was not told the name of the person I would be meeting with beforehand."
July 9
NYT reports Trump Jr. was told contact had info damaging to Clinton
The Times, citing multiple sources, including three advisers to the White House, reports that Trump Jr. was "promised damaging information about Hillary Clinton before agreeing to meet with a Kremlin-connected Russian lawyer."
Trump Jr. issues a new statement
Trump Jr. tells the news media: "After pleasantries were exchanged the woman stated that she had information that individuals connected to Russia were funding the Democratic National Committee and supporting Mrs. Clinton. Her statements were vague, ambiguous and made no sense. No details or supporting information was provided or even offered. It quickly became clear that she had no meaningful information. She then changed subjects and began discussing the adoption of Russian children and mentioned the Magnitsky Act. It became clear to me that this was the true agenda all along and that the claims of potentially helpful information were a pretext for the meeting."
July 10
Paper reports Trump Jr. knew of Russian effort
The Times reports that Trump Jr. was told in an email ahead of his meeting with the Russian lawyer that the compromising information about Clinton was part of a Russian government effort to help his father's campaign, according to three people with knowledge of the email.
Trump Jr.'s attorney responds to NYT
"In my view, this is much ado about nothing. During this busy period, Robert Goldstone contacted Don Jr. in an email and suggested that people had information concerning alleged wrongdoing by Democratic Party front-runner, Hillary Clinton, in her dealings with Russia," Alan Futerfas, Trump Jr.'s attorney, tells The Times in an email. Goldstone is a music publicist who worked on the 2013 Miss Universe pageant with the Trump family.