Lunch and Learn with The Women Investors Network Expanding the Knowledge of Professional Women Working in Real Estate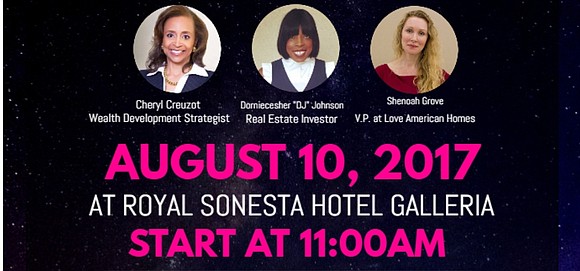 August 4, 2017 - Houston, TX- Join female strategists for a dynamic event powered by Mercedes-Benz of Houston Greenway on Thursday, August 10, 2017, at the Royal Sonesta hotel.
Attendees will gain insight on strategic investment tools and strategies with a seminar titled, "Dominating in a Male Industry as a Real Estate Investor," designed to help women navigate and climb the career ladder within real estate. This luncheon will provide a wealth of information and exceptional strategy to all, with plenty insights and ideas for guests to chew on. Founder, DJ Johnson says "I am so elated to host this event for women of Houston. Property Investing is growing in Houston and I wish to share the knowledge I've gained."
Award-winning financial planner, Cheryl D. Creuzot, along with Vice President at Love American Homes, Shenoah Grove, are the keynote speakers and will share their experience and expertise on a range of topics including networking, personal branding, and much more. Cheryl and Shenoah will certainly provide a priceless exceptional strategy to all attendees. The luncheon will be hosted by the founder of WIN, DJ Johnson. Johnson has been a successful investor for nearly a decade. She has properties in every area in Houston.
The Lunch and Learn is sponsored by Mercedes Benz of Houston Greenway, Longhorn Investments, One Nation Title, Prosperity Real Estate Group, Quest IRA, KYND Radio 1520, Streamline Funding, Xpert Credit Repair, and the J. Gannon Helstowski Law Firm.
Tickets are available on Eventbrite at bit.ly/2h5R5ia. Please visit womeninvestorsnetwork.org or contact (713) 446-5667 for more information.