The Balvenie Unveils New Expression In the U.S.
Latest Release from Longest-Serving Malt Master David Stewart Showcases One of the Distillery's First Whiskies to be Made From 100% Peated Barley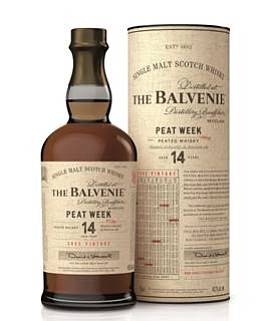 NEW YORK, NY (AUGUST 9, 2017) – The Balvenie, the most handcrafted single malt Scotch whisky, reimagines a classic Speyside style whisky with the release of an exceptional peated expression – The Balvenie Peat Week Aged 14 Years (2002 Vintage), now available in the U.S. A product of trials and experimentation, The Balvenie Peat Week was conceptualized by The Balvenie's Malt Master David Stewart MBE and Ian Millar, former distillery manager and current Prestige Whiskies Specialist at William Grant & Sons.
In 2002 – a time when very few Speyside distilleries were using peat in production – The Balvenie distilled a batch of heavily peated malt, which was laid down to mature at the distillery in Dufftown, Scotland under the watchful eye of the industry's longest-serving Malt Master. Since this pioneering moment, the distillery has dedicated one week each year, aptly named Peat Week, to using only peated barley in its production, to craft a different style of The Balvenie liquid with enhanced smoky notes.
The result of the initial experiment is a classic honeyed whisky enriched with a delicate, sweet and lingering peat smoke that unlocks flavours unexpected from a Speyside distillery and showcases The Balvenie's truly innovative and forward-thinking nature.
The Balvenie Peat Week (2002 Vintage) is a single vintage bottling, limited and rare by nature. This non-chill filtered expression was bottled at 48.3% ABV with liquid matured solely in American Oak casks, giving the final spirit a velvety and round taste with the peat smoke balancing oaky vanilla and honey.
Commenting on the release, David Stewart MBE said, "Being able to experiment with different elements of whisky making and stock management is one of the most exciting and important parts of my job. The new Peat Week bottling is a result of our continued efforts to innovate and trial flavors not typically associated with The Balvenie. The expression is testament to the freedom we enjoy as a family company, and shows The Balvenie in an unexpected way, yet still remaining true to the distillery style our drinkers enjoy."
The new release pays special homage to a time when peated whiskies were commonly produced by distilleries across Speyside, including The Balvenie, who utilised locally sourced peat throughout the 1930s, 40s and 50s to dry barley processed at the distillery's traditional malt floor, which is still in use today.
Additionally, Ian Millar noted, "When we first started the experiments it was an incredibly exciting time as very few Speyside distilleries were using peated malt in production. Along with cask type, there's nothing quite like peat to change the flavor profile of a whisky, so it was great to have the chance to undertake these experiments."
The Balvenie Peat Week is now available in the U.S. at an MSRP of $99.00 per 750ml bottle. For more information, please visit www.thebalvenie.com