Redd Superfood Energy Bars Launch in Houston
Portland, Maine-Based Company Gives Space City a Boost of Clean Energy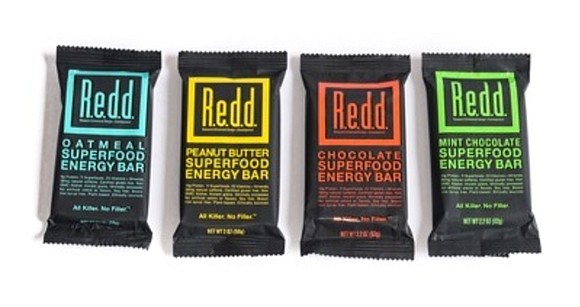 After his college meal plan simply wasn't cutting it, Redd founder Alden Blease started selling homemade vegan energy bars out of his backpack with the brand name Rawgasms. They were an instant hit. After a few years of trial and error—and a lot of hard work—Redd is now available in 1,000 new stores nationwide, including Houston.
Redd is committed to providing not just another energy bar, but one that's plant-based with eleven powerful superfoods, specifically proportioned for nourishment and taste. Whether it's finishing the workday strong or getting out to hike a new trail, Redd supplies the energy. Ultimately, the goal of Redd, says Blease, is to "help people feel more alive."
Four mouthwatering Redd flavors are making their way around the country this month, each the product of meticulous research and recipe design. All flavors contain nine grams of clean protein from pumpkin seeds, 23 vitamins and minerals, and a natural, crash-free energy boost from maca and yerba mate.
Chocolate: the original, the one that started it all. This bar is rich, indulgent, and nutrient dense. It's definitely not your average chocolate bar.
Peanut Butter: smooth, creamy peanut butter flavor explodes, like it was scooped from the jar, only a whole lot better.
Oatmeal: think of Irish oats, as pure as the steel that cut them. Now think of them inside a tasty energy bar.
Mint Chocolate: the newest addition to the bunch, it's a cool and refreshing twist on an old favorite.
Redd bars are now available at Sprouts Farmers Market locations at a retail price range of $2.99–$3.49.
Alden Blease has always had a passion for food and science, passions that prompted him to make meals for his soccer teammates at boarding school, to study with vegan chefs and experts while working as a model in NYC, and eventually to develop Redd. Alden has always loved using food to improve the way people feel, and Redd is the culmination of that desire.
People love the feeling Redd gives them: the clean energy and the delicious flavor. With an increase in production and a partnership with CEO Peter Van Alstine, Redd has been growing rapidly and, with this expansion, Alden is thrilled at the opportunity to spread more positive energy.