EADO Big Boy Toy Brings Miami Flare to Houston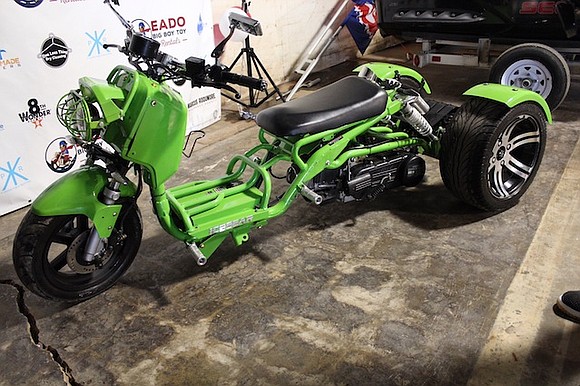 Houston's Downtown area is rapidly evolving as thousands of young professionals from throughout the country are relocating to the city, many who are in search of new activities to fill their free time. EADO Big Boy Toy Rental is accommodating Houston's growing young crowd with a more exciting way to travel the city center.
EADO, Houston's first scooter rental company, hosted its grand opening this past Saturday, offering guests free scooter rides in East Downtown. The event had a great turnout as several passersby watched as riders playfully drove trikes on an obstacle course set up at the company's facility, located at 1402 Hutchins Street.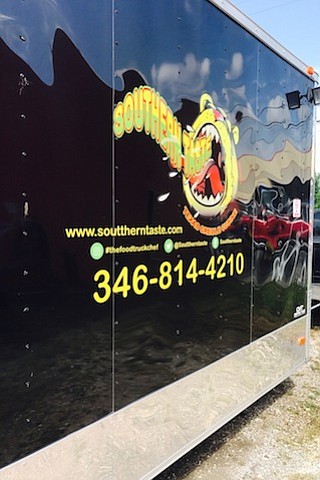 A couple who were bike riding in the area stopped by for a test ride. An EADO staffer taught the couple how to ride the trikes. "We had a lot of fun. This is a great idea. We will definitely be back," they said.
Test riders also toured the facility and took advantage of social media photo ops on a trike set up in front of an event backdrop within the facility.
Houston's 97.9 The Box was on site providing live entertainment with DJ J-Que, which attracted more guests to the opening. Guests of all ages were in attendance as EADO also provided a spacewalk for children. Houston's popular Southern Taste food truck prepared food for guests.
EADO offers its customers an unconventional and fresh idea for day and nighttime outings in Houston's downtown area.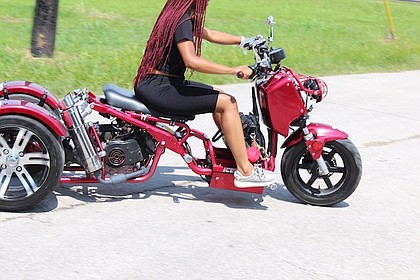 "Houston needed more. I was always looking for something different to do, which made me realize that the city needed more. I wanted to bring something different to Houston that people would enjoy," EADO owner Chad Cossey said.
Cossey's concept for the business was inspired by a recent trip to Miami.
"I visited Miami and noticed that they had scooter rentals. I thought that would be a great concept to bring to Houston," he said.
"Scooters also give tourists the opportunity to explore the city in a different way. You can Uber wherever you want to go, but what would be cooler than renting a scooter and riding around sightseeing the downtown and midtown area? Feeling like you're on a motorcycle, but at the same time not having the fear of a motorcycle."
EADO's scooters reach a maximum speed of 35 mph and can accommodate a single rider or two riders. Their fleet of ten scooters in vary of colors can be rented on hourly or all day basis. EaDO has a few restrictions for approval to ride the scotter. Customers must be 21 and up to rent; anyone under 21 who rides is based upon approval. Any riders under the age of 18 will only be allowed to ride on the back of a scooter driven by an adult. Customers are able to ride anywhere within the 610 loop. The company offers art tours, nighttime tours, and tours in the Historic Third Ward district. The company has partnered with local breweries and restaurants to execute its tours.
"As part of our nighttime tour, we've partnered with 8th Wonder Brewery and they are allowing everyone to visit their facility before ending the tour," Cossey said.
As a minority business owner and father of a teenage son, Cossey uses his business knowledge to mentor impoverished youth and teach them about owning a business, allowing some to work with him during their free time.
"I mentor a lot of young people from poor communities. They are our future. They are the ones who statistically don't have any guidance or direction. I want to show them how to start a business. I want them to see the work it takes to get a business off the ground. I want them to get a vision. I also mentor business owners. Eventually, I'd like to franchise this business out to other minority businesses so that they can open locations in different locations or cities and benefit from our footprint that we create here," he said.
EADO Big Boy Toy Rentals offers 2-wheel scooters, trikes, jet skis and RV rentals. The company can be contacted at (281) 851-2044, or on their website at EADObigboytoyrentals.com