NABJ17 Convention Heads to New Orleans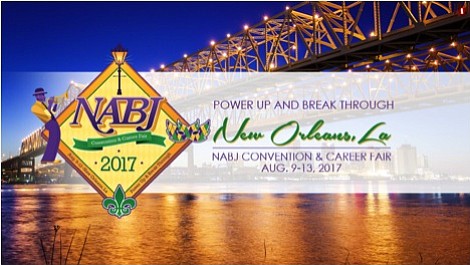 The Big Easy welcomed thousands of journalists, students, public relations profession-als, celebrities and other media professionals from across the nation to the annual Na-tional Association of Black Journalists Convention and Career Fair in New Orleans, LA on August 9-13. This year's theme was "Power Up and Break Through." Attendees en-joyed a jam-packed week full of panel discussions, workshops, and networking mixers at the host hotel, Hilton New Orleans Riverside.
The party started early at the convention during the opening ceremonies when a live jazz band paraded down the aisles encouraging attendees to do a second line as many also whipped out their phones to record the festivities. What's a party without the food? NABJ convention organizers made sure there was no shortage of coffee and beignets for attendees to indulge in while they mingled at the Welcome and Network-ing reception.
A big highlight of the conference was when CNN White House Correspondent April Ryan was named Journalist of the Year by NABJ President Sarah Glover at the NABJ Salute to Excellence Awards. Like previous awardees, Ryan was recognized for her work that has "extraordinary depth, scope, and significance to people of the African Diaspora." She is the only black female reporter covering urban issues from the White House - a position she has held for American Urban Radio Networks (AURN) since January 1997.
"April Ryan is a true trailblazer and truth seeker. She's dogged and unapologetic about her pursuit of the story," said NABJ President Sarah Glover. "In the White House press corps circle, where too few black women have been given an opportunity to report, April has excelled and persevered in spite of the many obstacles she has confronted. Her work has risen to the top."
Another high point for me was the interesting discussion with Byron Pitts as moderated for the Newsmaker Plenary. Pitts had a sit down interview with former President of the Academy of Motion Pictures Arts and Sciences Cheryl Boone Isaacs. She spoke about the "Oscars so White" controversy and what's next for her. Following that thought pro-voking conversation, NABJ rolled out the red carpet for actors Tasha Smith, Lance Gross, Lil Mama, and Tami Roman. The cast hosted a screening of Smith's upcoming directorial debut "When Love Kills: The Falicia Blakely Story" starring Niatia Kirkland "Lil Mama" and Lance Gross. "When Love Kills" premieres on TVONE on August 28, 2017. Cast members from OWN's Greenleaf and Queen Sugar were also in attendance for a special Q&A. Dawn-Lyen Gardner and Rutina Wesley of Queen Sugar hosted a private riverboat cruise sponsored by the Find Your Park organization during the con-vention. The two spoke about how their characters would act while at a park and then how they would act themselves.
Stirring up the most controversy at the convention was White House aide Omarosa Manigault-Newman when she appeared as a panelist at the W.E.B Dubois Plenary en-titled "Black and Blue: Raising Our Sons, Protecting Our Communities." Ed Gordon, of Bounce TV, stepped in to moderate the event after the original moderator backed out when she learned Newman would be on the panel. Also on the panel were Valerie Castile, Philando Castile's mother, and Sandra Sterling, Alton Sterling's aunt.
Tempers began to rise when Manigault-Newman repeatedly dodge answering ques-tions about her role as an advocate for African American issues in the Trump admini-stration and updates to the criminal justice system. Gordon was not backing down and was not going to let Manigault-Newman get away. He told her, "I've seen you do this, and you're not gonna railroad this." The exchanged motivate some members of the audience to leave the room while others turned their backs to Manigault-Newman. As the confrontation escalated, members of the audience took out their phones to docu-ment the verbal exchange.
NABJ released a statement on why Manigault-Newman was invited. "As an organiza-tion of professional journalists, NABJ seeks to have candid and frank conversations with newsmakers. Omarosa Newman, Director of Communications for the Office of Public Liaison, was invited as a panelist this year to share her perspective on issues that are critical to our members, and moreover, critical to the communities that we serve."
The 2018 NABJ Convention and Career Fair will be held in Detroit, MI.