Ghostpoet Debuts Slowdive Remix Of "Woe Is Meee" On Brooklyn Vegan
Dark Days + Canapés Out Now On Play It Again Sam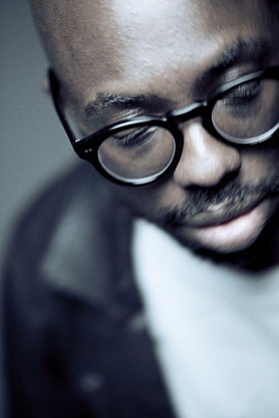 Following the worldwide success of his fourth album Dark Days + Canapés (released in August on Play It Again Sam), Ghostpoet is pleased to unveil a remix of his track "Woe Is Meee" by Slowdive. Listen to it HERE. Slowdive comment on their interpretation of the track: "It's got a Slowdive flavor without ruining the structure or emotional weight of the original song".
A blues laden highlight from the album, "Woe Is Meee" enlists Massive Attack's Daddy G on guest vocals, providing a dark and sinuous turn amidst the stripped back musical arrangement. Daddy G's brooding presence compliments Ghostpoet's captivating delivery and together allow the listener to dive deep into the gulf between fantasy and reality.
In February and March of 2018 Ghostpoet will embark on his biggest tour to date throughout Europe. Dates are listed below.
GHOSTPOET WINTER TOUR DATES:
1/31/2018 - Lille, France - 'Aernef
2/1/2018 - Paris, France - La Maroquinerie
2/2/2018 - Brussels, Belgium - Ancienne Belgique
2/3/2018 - Amsterdam, Netherlands - Bitterzoet
2/5/2018 - Heidelberg, Germany - Karlstorbahof
2/6/2018 - Cologne, Gernany - Gloria Theatre
2/7/2018 - Hamburg, Germany - Mojo Club
2/8/2018 - Berlin, Germany - Berghain
2/10/2018 - Aarhus, Denmark - Voxhall
2/11/2017 - Copenhagen, Denmark - Vega
2/12/2018 - Oslo, Norway - John Dee
2/14/2018 - Tallin, Estonia - Club Sinilind
2/15/2018 - St. Petersburg, Russia - Erarta
2/16/2018 - Riga, Latvia - Daile
2/17/2018 - Vilnius, Latvia - Art Factory Loftas
2/18/2018 - Warsaw, Poland - Niebo
2/20/2018 - Prague, Czech Republic - Lucerna
2/21/2018 - Wien, Austria - Flex
2/22/2018 - Istanbul, Turkey - Babylon
2/23/2018 - Budapest, Hungary - A38 Ship
2/24/2018 - Zagreb, Croatia - Mochvara
2/25/2018 - Ljubijana, Slovenia - Kino Siska Center For Urban Culture
2/27/2018 - Rome, Italy - Teatro Quirinetta
2/28/2018 - Milan, Italy - Circolo Magnolia
3/1/2018 - Munich, Germany - Feierwerk
3/2/2018 - Zurich, Switzerland - Stall 6
3/3/2018 - Dudingen, Switzerland - Café Bad Bonn