10 Reasons to Visit Plovdiv, Bulgaria's Hidden Treasure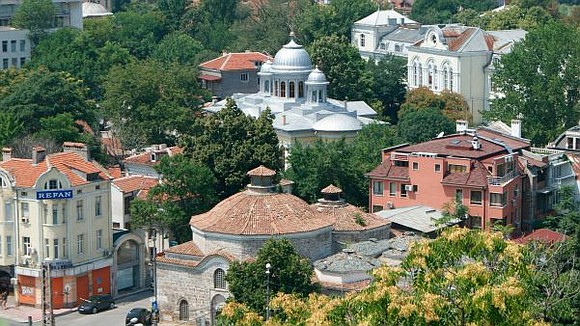 Matt Hayes, CNN
(CNN) -- Bulgaria's Plovdiv remains relatively unknown to most travelers, but it's beginning to appear on more and more Balkan itineraries -- and for good reason.
Situated between two vast mountain ranges along what in centuries past was a crucial inland route from Western Europe to Constantinople (Istanbul) and Asia Minor, Bulgaria's second city has been held over the centuries by Thracians, Greeks, Romans, Byzantines and Ottomans.
Remnants of these kingdoms and empires still survive in compelling proximity to one another, and the city's various rulers have left their mark not only on its architecture, but also on its vibrant artistic and cultural life.
Plovdiv is set to be the European Capital of Culture for 2019, and traveling there now offers the best chance of exploring before it becomes as famous as it deserves to be.
1. It's one of the oldest cities in Europe
Plovdiv has a strong claim to being the oldest continually inhabited city in Europe.
While it's hard to summarize 6,000 years of visible history, an obvious highlight is the enormous, partially unearthed Roman stadium below the main street.
Just 10 paces away, the 600-year-old Dzhumaya Mosque still serves the Turkish families that stayed behind after the collapse of Ottoman rule.
Plovdiv's old town, with its winding cobbled streets and elegant revival-era townhouses, is perfect for a leisurely evening stroll.
Commanding the heights above the old town is the ruined fortress of Nebet Tepe.
Thracian tribesmen were the first to establish a settlement on this site, and the fortress they built was further developed by Macedonians and then Romans.
When the Ottomans pushed their imperial frontiers beyond Plovdiv, they partly demolished the fortress so it couldn't be used by Bulgarian rebels -- yet the ruins that remain are magical, especially at night.
Extra tip: Kuyumdjiev House, which is home to an interesting ethnographic museum, is a fine example of Plovdiv's Revival architecture.
Regional Ethnographic Museum, Dr. Stoyan Chomakov 2, 4000 Staria grad, Plovdiv, Bulgaria; +359 32 626 327
2. The food and wine scene is incredible
Bulgarians are justifiably proud of their ancient winemaking tradition, and Bulgarian cuisine, with its Turkish, Greek and Slavic influences, provides the perfect accompaniment to a bottle of local mavrud.
On seemingly every corner, hole-in-the-wall bakeries sell deliciously greasy cheese-filled pastries called banitsa, ideally washed down with boza, a wheat-based malt drink.
Tarator, a cold soup of yoghurt, garlic and dill, is perfect on a sweltering summer's day -- as is the traditional shopska salata, a refreshing salad of tomato, cucumber, onion, parsley, and shredded sirene cheese. And this is just scratching the surface of what Plovdiv has to offer.
Extra tip: The restaurant Pavaj is a hugely popular local favorite, offering a range of less common regional specialties as well as an amazing selection of rakia, a fruit brandy considered to be Bulgaria's national drink.
Pavaj, Zlatarska 7, 4000 Kapana, Plovdiv, Bulgaria; +359 87 811 1876
3. Aylyak is a serious business there
Aylyak is an untranslatable Bulgarian word, widely used to describe a certain desirable state of mind.