Jessica Alba Wants More Women Leaders at The Honest Company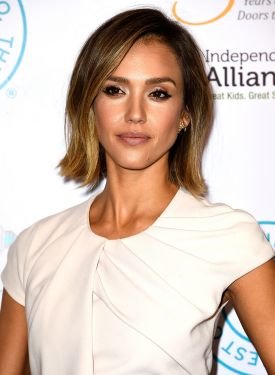 Haley Draznin
(CNN Money) -- Jessica Alba is trying to solve a problem many business owners face: getting more women into leadership positions at her company.
As one of few women in an executive role at The Honest Company, the actress turned entrepreneur admits "it's tough when you're the only woman in the room." She's working to empower more women so they, too, can get a seat at the table, she tells CNN's Poppy Harlow in a new podcast episode of Boss Files.
Women make up 65% of The Honest Company's 400 employees. However, only three of nine executives there are female, including Alba.
"I just felt so alone," says Alba, reflecting on being one of the only women in a leadership role during her early days at the company.
Alba, now 36, knew she wanted to start a company that made safe, organic products. She says she had an allergic reaction to baby detergent while cleaning onesies for her first child.
"I just felt like how the heck could something that's marketed to babies specifically, and all of that, give me this type of reaction. Like what's going on?" Alba recalls.
So she started researching online and eventually made her way to Washington D.C., lobbying for chemical reform on Capitol Hill, and later partnering with three other co-founders -- all men -- to launch The Honest Company.
The mother of two, who has a third on the way, co-founded the consumer goods brand in 2011. When she was raising her initial seed funding she was pregnant with her second child, and pitching to a room full of mostly men.
Alba also says many potential investors didn't take her seriously because she was a celebrity.
"It made me more determined... Everyone pretty much thought I was nuts," the Golden Globes nominee admits. "Being successful in entertainment doesn't mean you're going to be successful in business."
Related: Christy Turlington Burns on her mission to help all mothers
Alba says she worked with her co-founders to make the board more diverse, but they initially had other priorities.
"It's not that they didn't want to, it's just, we were thinking month-to-month about financial goals and that's more important than building a long-term vision and strategy," she tells Harlow.
The Honest Company tells CNN that Alba and Brian Lee, a co-founder and former CEO, sought out women to join the board but it was challenging to get anyone -- women or men -- to commit to a VC-backed startup.
Lee, who left his post as CEO in March, did not respond to a request for comment from CNN.
Today, Alba says she is committed to changing the company's demographics. She hired a new CEO, Nick Vlahos, who is restructuring the company's management team. And she is devising ways to help women at the company build their career paths and get to that "C-suite executive capability."
"We're going to have a curriculum and a program and a mentorship in-house, inside of The Honest Company, for women specifically. It's necessary," Alba says.