PVAMU Students Participate in Toyota Green Initiative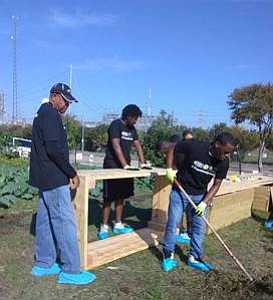 Last week, over 60 students participated in the Toyota Green Initiative campaign. The collaboration between the Southwestern Athletic Conference, Toyota, and North Compass Bank brings together the local community with special events and celebrities. "This was the largest showing of students as of yet and PVAMU students were the largest university representation," said Alisha Lowe Scott, student volunteer coordinator. Along with the help of Architecture professor Barry Norwood, she assisted with organizing the transportation of the students to Houston to help clean up Blodgett Urban Gardens, a 501(c)(3) charitable organization.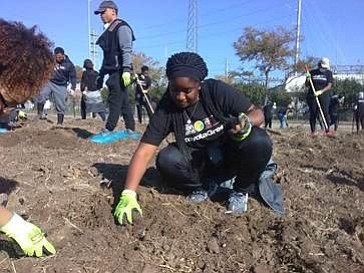 The Toyota Green Initiative campaign continues to foster fresh, innovative ideas around sustainability that both resonate with consumers, motivate them to learn about the Toyota brand and make a difference within the African-American community. Blodgett Urban Garden, the site of the volunteering campaign, is dedicated to eradicating the causes of malnutrition and dietary-related diseases through gardening and sustainability practices. While there, students created new flowerbeds and removed bricks for newly expanded parts of the Blodgett Urban Gardens. Because of the work completed by PVAMU students and other community volunteers, the Blodgett Urban Gardens will continue to provide low-income families with a wide variety of fresh local produce that is affordable and can be purchased with SNAP benefits through their bi-weekly Farmers Market.