Joy On Ice
2nd Annual #YearOfJoy Holiday Ice Skating Party Brings Joy to 75 Houston Area Children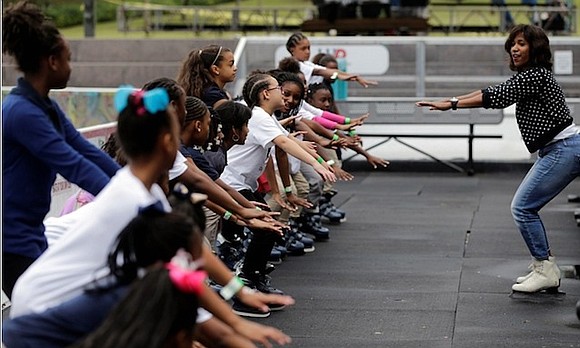 HOUSTON – Some 75 children from Houston's Third Ward community will experience the joys of ice skating for the holidays at the 2nd annual #YearOfJoy Holiday Ice Skating Party at the ICE powered by Green Mountain Energy at Discovery Green, 1500 McKinney from 4:00 – 6:00 p.m. Monday, Dec. 11, 2017.
This magical event is also sponsored by H-E-B, which is providing food, cake and toys, and Corporate Services International, which is providing roundtrip transportation of about 40 children from Peck Elementary School. It also will include children from Houston Southside Community Center and Hype Freedom Schools.
"Many of my children have never seen ice or even been ice skating," said Peck Elementary Principal Carlotta Brown. "To have this type of experience and be able to have fun with other children their age is life changing."
Other sponsors are the Houston Rockets, Picture Me Houston Photo Booth and the Houston Chronicle, along with support by a host of volunteers and generous donors.
The #YearOfJoy Holiday Ice Skating Party was started in December 2016 by Houston Chronicle fashion and beauty editor Joy Sewing, who is also a former competitive ice skater and coach.
Her mission was to share the experience and joys of ice skating with children who might never have the opportunity to try it. It's also part of #YearOfJoy, her personal journey to live a more joyful life. It has since grown into a community movement to spread joy to area children.
In the last year, she's held other #YearOfJoy projects, including a "Hidden Figures" movie night at iPic at River Oaks District for some 60 girls, including several from area homeless shelters, and Wonder Woman Bowling Party at Bowlmor, complete with Wonder Woman capes and treats, empowering spoken-word poets, a photo booth, face painting and the cutest Girl Power gift bags ever. Yellow Cab provided roundtrip transportation.
In June 2017, Joy received the Houston Humanitarian Award for Random Acts of Kindness Day and was presented with a proclamation from Houston Mayor Sylvester Turner. Her #YearOfJoy Project also was featured in Houston Chronicle's philanthropy section, "Houston Gives."
FOLLOW THE JOY:
yearofjoy