Trump's Jerusalem Decision Promises Upheaval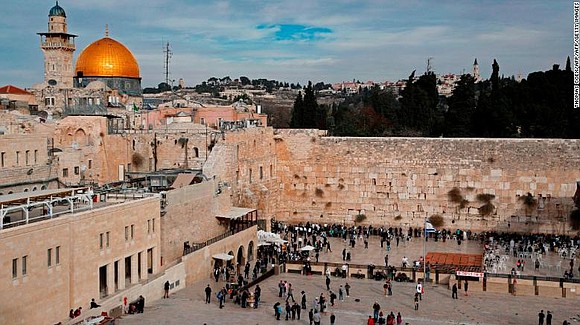 Analysis by Stephen Collinson, CNN
(CNN) -- President Donald Trump's fragile political standing among American voters may be about to cause dangerous reverberations in the Middle East.
His announcement Wednesday that he will recognize Jerusalem as the capital of Israel and begin to relocate the US embassy there from Tel Aviv is sparking debate over what the President personally, and the United States, will gain given that the decision marks a sharp foreign policy turn and comes with such high risks.
Critics doubt that the President is acting on the basis of long-held principles or a coherent national security strategy and charge he is instead determined to further personal goals at a time when he needs to show his political base that he is rapidly ticking off his campaign promises.
The question is especially acute because there are so many potential downsides. There are fears Trump's action will trigger violence against Americans and US interests and a wider Middle East conflagration, especially in countries where leaders support the US government. The US Consulate in Jerusalem warned Americans to be wary of demonstrations after Palestinian factions called for "three days of rage" across the West Bank.
Trump's decision will defy explicit appeals from allied leaders in the Middle East and Europe and could therefore damage American foreign policy goals and relationships. The move is likely to squander any remaining idea that the United States can be an honest broker in the stalled final status talks between Israel and the Palestinians. It is also likely to squelch son-in-law Jared Kushner's attempt to revive the Israeli-Palestinian dialogue.
Given unequivocal criticism by Saudi Arabia on Tuesday, it could also slow another Kushner project -- rapidly warming US ties with the kingdom -- and make it harder for the Saudis to line up publicly alongside Israel in the nascent US policy effort to form a new anti-Iran coalition.
As Aaron David Miller, a former Middle East peace negotiator for Republican and Democratic presidents, warned on CNN: "Jerusalem is a tinderbox, waiting for a match."
Why do it?
So why would Trump risk providing that spark with a move that seems to come with such potentially unpredictable and dire consequences, especially as he will be blamed if he sends Middle Eastern tensions soaring?
Given Trump's approval rating -- which a poll put at 35% on Tuesday -- and intense focus on honoring campaign promises during a fraught year, many observers sense a political motivation.
CNN's Kevin Liptak reported on Tuesday that the President was concerned about losing his base and has taken steps to galvanize conservative support -- for instance, in his endorsement of Senate candidate Roy Moore of Alabama, who has been accused of initiating sexual contact with a 14-year-old, sexually assaulting a 16-year-old and pursuing relationships with teenage girls while he was in his 30s. He has denied those claims. The Jerusalem decision also comes with Trump under heavy political pressure as the Russia probe reaches directly into his inner circle.