Mayor: City Trade Mission Finds "golden moment" for Economic Expansion with China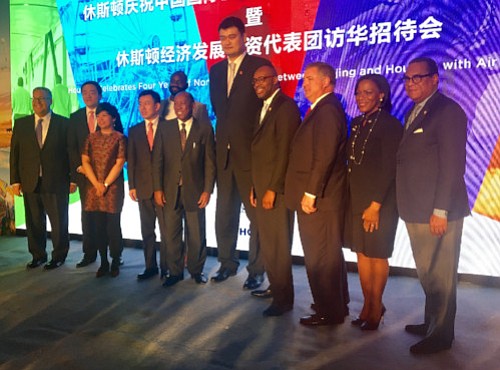 HOUSTON - Backed by Houston's largest-ever trade delegation to a foreign country, Mayor Sylvester Turner declared after meetings with government officials and business leaders in China last week that Houston and the world's most populous nation have reached "a golden moment" of mutual economic advantage.
Chinese leaders told the mayor they are eager to expand business dealings with Houston companies and institutions in the fields of health care, energy, engineering, education, finance, aeronautics and other key areas where the city has unique expertise.
"It's my hope that with the opening (of Chinese trade) to the world, and the openness of Houston, we can build on our relationship," the mayor said during one of the meetings in China.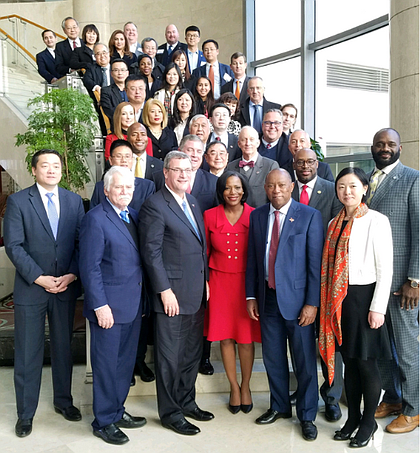 "We are in a golden moment where Houston is the uniquely positioned supplier of goods and services that China needs to meet the growing demands of its booming nation as its president, Xi Jinping, spurs his nation to increase its interactions with the rest of world," Mayor Turner said on the completion of the trade mission.
"Expanded trade with China -- already our second largest international trade partner -- brings more jobs and and more investment capital to Houston," he added.
China conducts more than $15 billion in import-export trade with Houston every year, topped only by Mexico. Chinese visitors to Houston spend an average of $5,000 each per trip. As the most diverse city in the United States, Houston has at least 67,000 residents born in China and at least another 100,000 of Chinese descent, making the city a welcoming destination for Chinese visitors.
Seeing ripened opportunities for more trade, the Greater Houston Partnership organized a delegation of about 70 business leaders to accompany the mayor Dec. 2-9 to the cities of Beijing, Shanghai and Shenzhen, an official sister city of Houston.
As a result, Mayor Turner and/or the city's business leaders signed a series of official memoranda of understanding expressing specific plans to widen commerce with China.
Some of the most compelling statements made by Chinese officials in meetings with the mayor came from Li Pumin, secretary general of China's planning and development agency, the National Development and Reform Commission.
As his nation pursues its ''Healthy China Strategy,'' Li said, "China needs a medical center like the Texas Medical Center" and is already turning to Houston's premier medical institutions for help in meeting the growing healthcare needs of its 1.3 billion people. "The market will have a leading role and the government will give it support," he added.
Li quoted President Xi in the talks about doing business with Houston businesses and institutions: "The doors of China will only open wider to the outside world."
Similarly, the vice administrator of China's National Energy Administration, Lui Baowue, told Mayor Turner that his nation is looking to Houston's relatively young liquified natural gas export industry to help China triple its use of natural gas by 2020 as its reduces its use of coal to lessen air pollution. Lui also indicated China is on the verge of seeking help from U.S. companies to tap its shale oil deposits -- an energy industry specialty for which Houston is the unparalleled technological leader.