Gospel Stars Tour Houston for McDonald's Holiday Experience Concert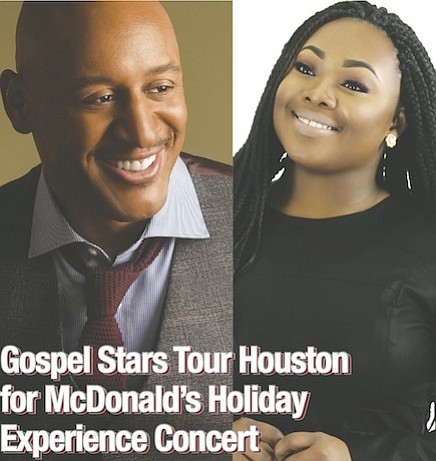 Wilson describes the tour to Houston as "a world-class line-up". He mentioned this was the first appearance Kirk Franklin and the Clark Sisters have made during the history of the charitable tour. Wilson stated that the holidays could sometimes exacerbate whatever trial someone may be going through, so he hopes to bring inspiration to "King of Kings" and many other well-known Gospel selections. "The prayers of the righteous availeth much...", Wilson stated. Besides singing during the Houston leg of the tour, Wilson also shared his talents at City Hall for a breakfast event held by Mayor Sylvester Turner.
Fans can expect Brian Courtney Wilson to release his studio project, The Great Work, at the first quarter of the year.
The McDonald's Inspiration Celebration® Gospel Tour Holiday Experience Concert will continue the tour's nationwide fundraising to support Ronald McDonald House Charities® (RMHC®) mission: "Keeping families with sick children together and near the care and resources they need." The funds raised during the Holiday Experience Concert will be donated to the RMHC of Greater Houston/Galveston and the families they serve. Over the past six years, the tour has raised approximately $761,000 for RMHC; enough to provide more than 6,300 overnight stays for families at Ronald McDonald Houses around the country.
For more information on Jekalyn Carr follow her on Twitter and Instagram @JekalynCarr and like her on Facebook.com/JekalynCarr or visit myjekalyncarr.net. Find out more about Brian Courtney Wilson by following him @BCourtneyWilson on Twitter, @BrianCourtneyWilson on Instagram and Facebook, or his website BrianCourtneyWilson.com. Visit www.365Black.com to learn more about the 11th annual tour, the Holiday Experience Concert, and McDonald's 365Black initiative.