5 Things for December 18: Atlanta Airport Outage, Tax Overhaul, Russia Investigation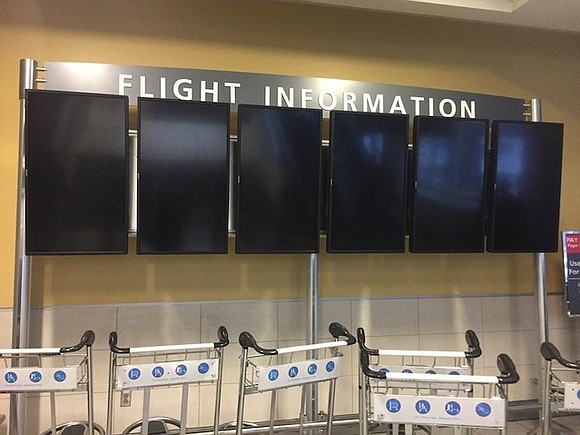 By Doug Criss, CNN
(CNN) -- Say hello to Amy Wright, the newest CNN Hero of the Year. Here's what else you need to know to Get Up to Speed and Out the Door.
Atlanta airport blackout
Power was restored overnight at the world's busiest airport, but the mess the total blackout left may take all day to straighten out. The power flickered off early Sunday afternoon at Atlanta's Hartsfield-Jackson International Airport after a fire at an underground electrical facility. That fire took out the backup power, too. It's not clear what caused the blaze. Thousands of passengers were left scurrying around in darkened terminals or sitting for hours on planes on tarmacs. No planes could fly in or out of the airport, leading to more than 1,000 flight cancellations and air travel disruptions across the US.
This morning, the airlines will start untangling the web of stranded passengers, cancellations and delays in an effort to get operations at the airport back to normal. Delta has already announced that more than 300 flights today will be canceled. The outage complicates the already busy Christmas holiday travel week.
Tax overhaul
Some time this week, the Republicans in the House and Senate will hold votes that will likely help them achieve a goal they've pursued for decades: a major overhaul of the US tax code. But in the Senate, they'll have to pass the $1.5 trillion tax bill without Sen. John McCain, who has returned home to Arizona to continue treatment for his brain tumor. Despite the loss of McCain's vote, the bill is still expected to pass because the GOP has a 52-48 vote advantage in the Senate. Vice President Mike Pence can cast a tie-breaking vote if need be.
Russia investigation
Talk of President Trump firing special counsel Robert Mueller hit a fever pitch over the weekend, but the President, returning from a rare trip to Camp David, said he had no plans to dump Mueller. Trump said he was upset though that Mueller's team had obtained tens of thousands of emails from Trump's transition team as part of the Russia investigation. Trump's lawyers wrote a letter to Congress to complain, saying the emails were "unlawfully" obtained. Mueller's team denies this, and the argument has been made that the transition emails are public records. The emails in question involve 13 transition officials, including four senior ones, according to the letter.
Jerusalem
Rejecting the Americans as a possible broker in a Middle East peace process, Palestinian leaders have shifted tactics, aiming for the United Nations to nullify President Donald Trump's recognition of Jerusalem as the capital of Israel, while simultaneously trying to get other countries to recognize a Palestinian state. A UN Security Council resolution trying to annul Trump's announcement, introduced by Egypt, could be put to a vote early this week, according to Israeli officials, though the US will almost certainly veto the resolution. That vote could come as early as today.
CDC banned words
Some words are suddenly off limits at the Centers for Disease Control and Prevention. CDC officials are reportedly banned from using the words "diversity," "fetus," "transgender," "vulnerable," "entitlement," "science-based" and "evidence-based." It's unclear why the Trump administration will no longer allow the CDC to use the words in its reports, but some analysts there say the blowback to this will be ferocious. A spokesman for Health and Human Services, which supervises the CDC, says it is a "mischaracterization" to say that there's a list of banned words.
BREAKFAST BROWSE
People are talking about these. Read up. Join in.
The Force is strong with this one
It's not quite as potent as "The Force Awakens," but "The Last Jedi" still flexed impressive muscle at the box office during its opening weekend.
Finally at rest
It took almost seven decades, but a US soldier, missing since the Korean War, was properly laid to rest in Hawaii.
Royal return
Will Smith is back as the Fresh Prince of Bel-Air, with a little assist from Ellen DeGeneres.
Pageant problems
An innocent selfie usually isn't a problem at beauty pageants, but it is when the pic puts Miss Iraq and Miss Israel in the same photo.
WHAT'S FOR LUNCH
Setting a new course
President Trump is set to unveil a new national security strategy (and take some shots at China) during a speech this afternoon.
NUMBER OF THE DAY
332
The number of people who were stricken with a stomach illness during a Royal Caribbean cruise. The Independence of the Seas returned to Florida over the weekend.
QUOTE OF THE DAY
"Do I need a British accent?"
Former President Barack Obama, joking around with Prince Harry during the ex-commander-in-chief's upcoming interview with the soon-to-be married royal on BBC Radio
AND FINALLY ...
Pop life
Want to review the year in music? You can go with a stale, tired countdown, or you can groove to this fresh mashup of 2017's 25 biggest pop hits.