Recover From New Year's Eve At The General Public
Celebrate National Hangover Day with brunch Jan. 1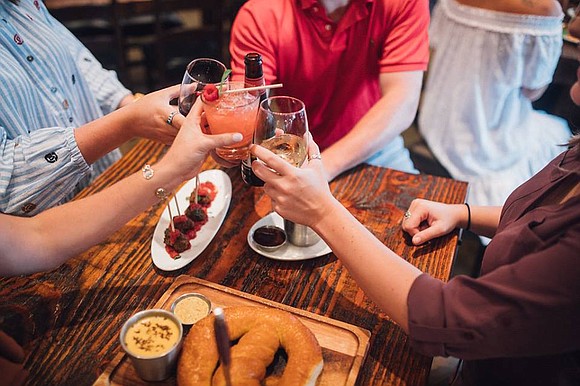 HOUSTON (Dec. 20, 2017) – 2018 is quickly approaching and with it comes that dreaded New Year's Eve hangover – there's even a National Holiday named after it. Not to worry! The General Public is making it easy to recuperate from a night of celebration.
The General Public will be serving up its crave-worthy brunch menu from 10:30 a.m. to 3 p.m. – a real treat as it is typically only served on Saturday and Sunday. Send your headache packing and recover by indulging in scrumptious options like Cinnamon French Toast, Crispy Quail & Hot Cakes, and Egg Whites Parmesan.
"Everyone knows New Year's Eve is for partying and New Year's Day is for rest and relaxation," said Kyle Noonan, co-owner of FreeRange Concepts, creator of The General Public. "If you'd prefer to go the 'hair of the dog' route, we will also be offering our Fresh Squeezed Brunch Mimosas for just $1. Either way, I guarantee there is no better way to welcome 2018 than with our delicious brunch."
To check out the full brunch menu, visit thegenpublic.com/brunch.
Located at 797 Sorella Ct., in Houston's CITYCENTRE development, The General Public features a gourmet menu and a wide selection of cocktails, beer, wine and whiskey – served both inside and on its air-conditioned patio. Its signature horseshoe-shaped bar is tended by expert cocktail crafters eager to share such enticing indulgences as The Bee Sting, Mezcal Mule, Rusky Rose and The Good Life.
The General Public is open from 11 a.m. to midnight Monday through Thursday, 11 a.m. to 2 a.m. on Friday, 10:30 a.m. to 2 a.m. on Saturday and 10:30 a.m. to midnight on Sunday. For more information, visit us online at TheGenPublic.com