Thousands Trying to Get Out of Atlanta After Lights Went Out at Hartsfield Airport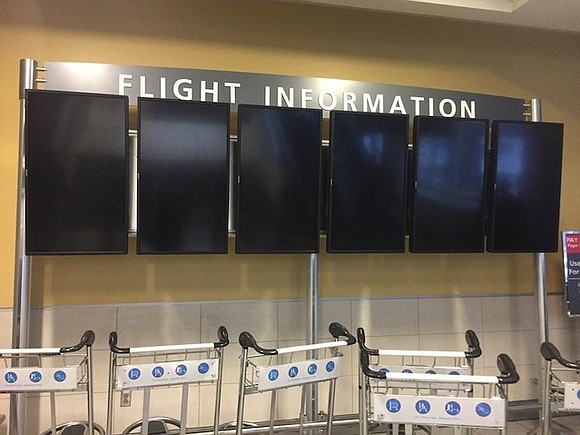 By Eliott C. McLaughlin, Tristan Smith and Martin Savidge, CNN
(CNN) -- There were people still sleeping on the floor the day after a power outage shut down operations at the Atlanta airport, but long ticket and security lines were moving -- albeit slowly -- as normalcy began returning to the world's busiest airport Monday.
Mondays and the holiday breaks are busy times for Hartsfield-Jackson International in general. Frequent fliers said the airport felt a little busier than usual, especially in the terminal that hosts Delta, whose headquarters are in Atlanta.
The line for Delta's Sky Priority passengers zig-zagged back and forth seven times and was still backed up to the main entrance to the airport. Some passengers muttered, "Oh my," upon encountering the lines. Others' reactions were more profane.
Volunteers in shirts that said, "Ask Me," tried to allay concerns and passed out doughnuts to those in line, many of whom shared horror stories about the night before.
While some fortunate passengers were able to board the flights departing Atlanta, other passengers were being told they'd have to wait hours or days. One airline was telling passengers it would be five days before they could get a flight out.
'They did pretty well'
When Ashley Hanford, 32, an Atlanta native who now calls Washington home, arrived for her 3 p.m. flight Sunday, the power was already out. Her flight was among almost 1,200 that were canceled Sunday.
She slept in the terminal all night. Speaking to CNN as she charged her phone around 5 a.m. Monday, Hanford said airline and airport employees did their best to take care of stranded passengers, handing out blankets, beverages, even slices of pizza.
"For it to be so chaotic, they did pretty well," she said.
Hanford planned to hang out at a cousin's house Monday before returning for her rescheduled 9:30 p.m. flight, she said.
While airline delays tend to spark short fuses, passengers seemed particularly magnanimous Monday morning. April Hubbard, who was in the security line for her flight to Houston when the airport went dark, reported a lack of communication, widespread rumors, the strong smell of fire near baggage claim and a taxi line that amounted to "pandemonium."
But the people stuck in the airport were "remarkably good," she said.
Another passenger, Suzi Harrington, could miss an adventure of a lifetime if she doesn't get a flight out today. She and three friends were traveling to Tanzania in hopes of summiting Mt. Kilimanjaro on Christmas, she said. As she stood in a long Delta ticketing queue. she said she wasn't angry.
"I mean, what are you going to do?" she said.
'Possibly millions of people disrupted'
Electricity returned to the mammoth airport late Sunday night.
The lights flickered on shortly before midnight, after an exhausting day for travelers. Thousands were stranded in dark terminals and on planes sitting on the tarmac. The ground stop in Atlanta disrupted air travel across the United States.
The effects rippled into Monday, as Delta reported almost 400 flights canceled amid the hangover from the outage. Delta tweeted that it expects flight schedules "to return to normal by Monday afternoon."