Lakia "Kanei" Mitchell Releases New CD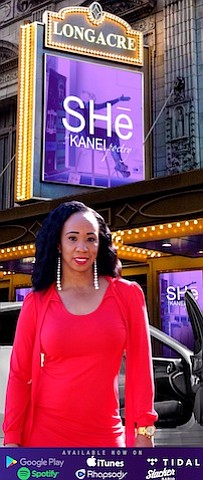 Lakia "Kanei" Mitchell set her sights on revolutionizing the album experience, focused on leaving listeners breathlessly anticipating the pulsing intensity of every note and profundity of each verse. As with everything the prolific poet produces, her new CD delivers. Aptly named it is the pure, raw embodiment of a woman's heart and soul; sophisticated feminism interlaced with a warrior's spirit and the grace and dignity of Queens. The ambitious project reflects artistic expression culled from the recesses of her pain and pleasure and is an extension of the woman she has learned to love, imperfections and all. stirs the senses of all women yearning for a voice and of men who long to hear what they say and understand what they mean. literally, cracks the code. Now you can experience first-hand the sheer magnificence of Kanei's groundbreaking solo album. Sol-Caritas hosts the official CD release party on December 27, 2017, at 8:00 p.m. at Improv Houston, 7620 Katy Fwy, Houston, TX 77024. Next, Kanei heads home. The Chester, Pennsylvania native (who proudly proclaims she is "Chester-made") debuts her CD at a special exclusive event hosted by Sol-Caritas powerhouse comedian and television personality Liz Faublas at Chester Culture Arts and Technology Center, 2300 West 4th Street, Chester, PA 19013.
Kanei submitted to poetry early in life. Shortly after making a name for herself in Houston's vibrant underground poetry scene, Kanei, a nurse by profession, juggled a career and motherhood traveling across the country honing her craft, sometimes at great personal sacrifice. She is now one of the most sought-after performers in the U.S and a fierce trailblazer who has set her sights on ensuring poetry is at the fore of the entertainment industry and that women are recognized as a poetic force to be reckoned with. A gifted writer with a keen intellect, her pieces expose matters of the heart with incisive perspective and blunt truth. Her command of complex composition solidifies her reputation as an exceptional Poetess who explores the breadth and depth of the human psyche to give her performances life. Kanei reaches people at their most vulnerable and serves generous portions of knowledge, compassion and authenticity.
She by Kanei is available on all major streaming platforms including Tidal, iTunes, Spotify, Rhapsody, Slacker Radio and YouTube Music.