Award-Winning Writer's Book a Unique Approach to Fun-Learning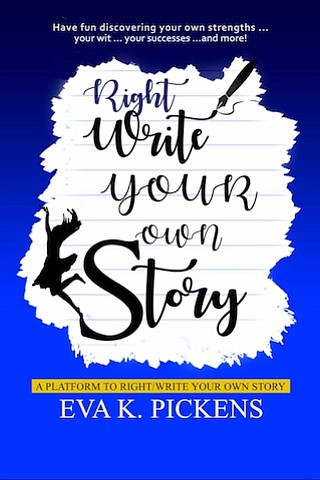 Local Houston author Eva K. Pickens brings a fresh approach to fun-learning through a creative new book titled, Write/Right Your Own Story, which allows readers to participate in the production of their own personal masterpiece. The book is loaded throughout with interactive, fun and exploratory prompts that invites you to write, draw, reflect and engage with family, friends and even strangers if you choose to.
And it is through these interactive processes that your mind and skills are sharpened. For, just like those childhood games of word pile, marbles and hopscotch sharpened skills like math, critical thinking, analytics, agility, engagement and social interaction, Write/Right Your Own Story provides a similar level of engagement and learning while participating in personally exciting activities and exercises.
"The idea for Write/Right Your Own Story has been tucked away in my mind for some time now," said author Eva K. Pickens. "I am hoping that this journal encourages more writing, reading and research, and that it rekindles the fire in the young and the young at heart who remember. This book should cause you to reflect in ways that allow you to become truly empowered, and to learn one of the most important lesson of all—who you are and whose you are. And the ultimate payoff isn't merely at the destination—the end of the book—but rather in the fun-filled journey. And parents will appreciate the fact Write/Right Your Own Story asks that you put down the electronic devices for just a short period of time and become fully engaged by having fun.
Write/Right Your Own Story, is scheduled for release this year. You want to reserve a copy for yourself and a copy to give as a gift. With the holidays nearing, it makes the perfect gift, just in time for Christmas, the New Year, Thank You, Birthdays, or just for fun. Some readers have already suggested the book be utilized as supplemental learning for schools, summer reading camps and institutes, mentoring initiatives, tutoring, creative writing and general writing classes. To purchase "Write/Right Your Own Story," visit Kalatrese Gift Store at 12355 S. Main St. (inside the Fiesta Shopping Court), call 713-470-7917; or purchase online via the website at WWW.KALATRESECANDYGIFTS.COM.