The Local's Guide to Venice Beach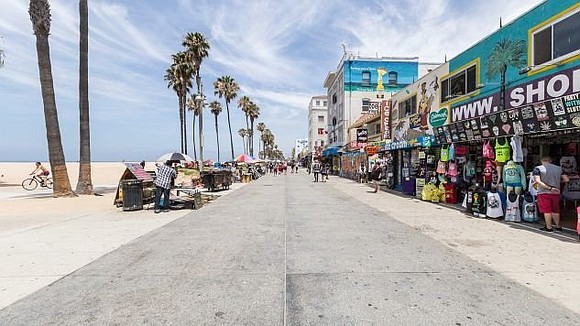 Jill Krasny, CNN
(CNN) -- Hear someone say "Venice Beach" and visions of a not-yet-famous Jim Morrison soulfully crooning "Moonlight Drive" come to mind. But the artsy beachside neighborhood on the Westside of Los Angeles is more than the birthplace of the Doors.
It's a carnival of amusements, both bygone and bougie, and home to one of the country's hottest tech hubs, Silicon Beach. It's also one of the most expensive neighborhoods in L.A.
The days of open-air drug markets and gang activity are over, and you're more likely when you travel here to spot a hoodie-clad Snapchat developer than a beret-wearing beatnik. But don't take that to mean Venice has lost its carefree bohemian spirit.
"Venice is a very inspirational place that has very young ideas," says Jason Ostro, owner of the Gabba Gallery near downtown L.A., "even though it's becoming that 'g' word: gentrified." And there's always something to see, as evidenced by all the artistic activity. Here's what the locals say to do when you get there:
Fuel up on the boardwalk
Venice muralist Jules Muck advises hitting the boardwalk well before sunrise.
"Early in the morning is the best time to be there," she says of the dreamy mile-and-a-half stretch by the Pacific Ocean. You'll have the beach to yourself before the vendors arrive, and there's something very restorative about sipping a warm cup of coffee while watching the waves. Espresso Yo' Self (1827 Ocean Front Walk, Venice, CA 90291; 1-(626)-673-7565), known for its cold-brewed Intelligentsia iced coffee, is a good bet. At the little window, order yours to go with a slice of wild whiskey bread pudding.
Stroll Abbot Kinney Boulevard
Once you've fueled up, "just walking around the neighborhood is pretty entertaining," says Muck, who likes exploring the trendy shops on Abbot Kinney, which has shed its gritty image in the past five years. Hit Aesop for aromatic cleansers worthy of Instagram, then pop into AUST. (1219 Abbot Kinney Blvd., Venice, CA 90291; 1-(310)-873-3303), owned by Aussie expat Hannah Wang, to browse the sweet selection of threads by rising designers from her home country.
Hungry? First Fridays, held on the first Friday of every month, are a fine time to sample the goods from popular local food trucks like Pink Taco and Rice Balls of Fire. When you're finished, follow the sugary smell of waffle cones to Salt and Straw (1357 Abbot Kinney Blvd., Venice, CA 90291; 1-(310)-310-8429), at the intersection of Abbot Kinney and California, where quirky ice cream flavors like honey lavender and almond brittle with salted ganache await.
See the art
Shutters on the Beach (1 Pico Blvd., Santa Monica, CA 90425; 1-(310)-458-0030), the 198-room luxury resort in Santa Monica about 12 minutes north, allows guests to accompany longtime fine art advisor Cynthia Greenwald on a tour of some of the area's most prestigious local galleries, like Bergamot Station (2525 Michigan Ave., Santa Monica, CA 90404; 1-(310)-453-7535). Be sure to sneak a peek at Shutter's own private art collection -- curated by Greenwald, naturally -- which includes works by modernist masters like Robert Motherwell, Claes Oldenburg, Sam Francis and Yayoi Kusama.