Alpha Kappa Alpha Sorority, Incorporated's HMAC Takes Annual Pink Goes Red Event to New Dimensions with Women's Health Symposium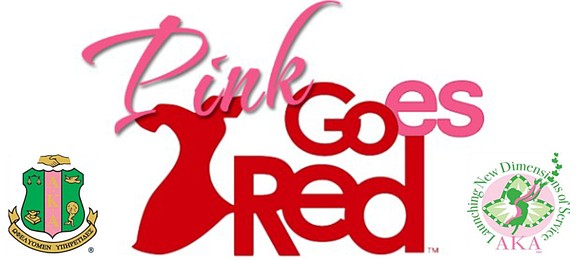 HOUSTON, TX – On Saturday, February 11, 2017 Alpha Kappa Alpha Sorority, Incorporated - Houston Metropolitan Area Chapters (HMAC) will host a Women's Health Symposium for their globally-launched initiative "Pink Goes Red for Heart Health". The event will take place at the 5th Ward Multi-Service Center, 4014 Market Street, Houston, TX 77020 from 10:00 a.m. until 2:00 p.m.
To register for this event, please visit https://pinkgoesredhouston2017.eventbrite.com. For more information and/or for questions or concerns please email pinkgoesredhouston@gmail.com
Over 200 women are expected to attend this free event, and will be provided with a wealth of knowledge and information from experts in diverse disciplines of medicine. There will be an "Ask the Expert" panel discussion, free health screenings, interactive exercise, heart healthy breakfast snacks and community resource vendors.
According to the American Heart Association, heart disease and stroke cause 1 in 3 deaths among women each year, killing approximately one woman every 80 seconds. This can change because 80 percent of cardiac and stroke events may be prevented with education and action. "The Women's Health Symposium goal is to provide our community with the knowledge and resources to cope and survive Heart Disease. With our panel of Health Professionals, our guests will be able to identify signs of hearts disease and reduce their risks," states Pink Goes Red Event Chairman Ms. Alicia Cain of the Xi Alpha Omega Chapter in Houston, Texas.
Social Media: @akasorority1908, #GoRed #GoRedHouston #pinkgoesred #AKAImpactDay #AKA1908. www.goredforwomen.org
Alpha Kappa Alpha Sorority, Incorporated - HMAC participating chapters in this effort are comprised of the following chapters: Alpha Kappa Omega (Houston, TX), Chi Omicron Omega (Katy, Texas), Epsilon Lambda (Houston, TX), Mu Kappa Omega (Missouri City, TX), Omicron Gamma (Houston, TX), Omicron Tau Omega (Spring, TX), Psi Mu Omega (Pearland, TX), Rho Omicron Omega (Baytown, TX), Sigma Theta (Houston, TX), Tau Zeta Omega (Webster, TX), Upsilon Theta Omega (Nacogdoches, TX), Xi Alpha Omega (Houston, TX), Zeta Gamma (Prairie View, TX), and Zeta Gamma Omega (Prairie View, TX)