Brooklyn's Coolest Hotels And Hottest Hangouts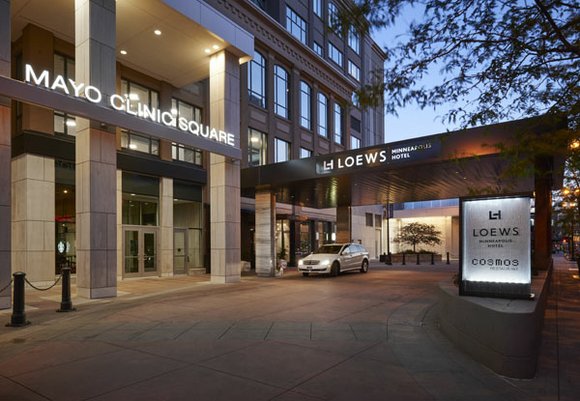 (CNN) -- Never mind the image of the stereotypical hipster with a waxed handlebar mustache riding a vintage fixed-gear bicycle in Brooklyn.
While they still exist at the Mast Brothers chocolate factory at the Brooklyn Navy Yard, what's currently popping up alongside this New York borough's artisanal cocktail lounges and trendy restaurants is a new generation of hotels.
Catering to travelers from overseas, around the United States or just over the river in Manhattan, these high-design enclaves put guests right in the middle of the laid-back, artsy Brooklyn vibe.
In fact, Brooklyn has become so entrenched in mainstream culture that producers for "The Bachelor" booked Monday's rose ceremony atop the luxe William Vale hotel in the neighborhood of Williamsburg.
It's a far cry from the area's manufacturing history, but the past is still front and center via original buildings; reclaimed wood, bricks and other material; and subtle design touches that evoke the borough's centuries-old trade and manufacturing industry.
Here are six of our favorite brand-new hotels and a couple of members of the old guard doing new things. All six serve upscale craft cocktails on property and feature city views that are better than any postcard.
McCarren Hotel & Pool
The original gangster of the nouveau Brooklyn hotel scene, the relatively petite 5-year-old McCarren Hotel & Pool has changed with the times and begun adulting with the rest of the neighborhood.
The 64-room hotel recently introduced a Babies Who Brunch menu on Sundays, replete with a playroom, foam mats and Disney or Pixar movies for the kids and unlimited drinks for the adults.
The upscale but spare midcentury design in the lobby trickles up to the rooms, all outfitted with Eames-style shell rocking chairs, furry throw pillows and Frette linens on the beds. (Coffee-loving travelers dig the Nespresso machines in every suite.) The hotel's scene-y see-and-be-seen outdoor pool, framed by a bold, splashy mural by street artist LovebErto, is practically made for Instagram.
Hilton Brooklyn
The Hilton Brooklyn, which opened this past November in rapidly gentrifying Boerum Hill, takes its building's 1800s rope factory heritage very seriously: The carpeting in the hallways features a giant rope motif, the rooms' custom-made charcoal-sketch toile wallpaper depicts shipbuilding scenes, and the print of the navy-blue-and-white carpet in the rooms subtly recalls interlocking ropes. Vintage maps of Brooklyn dot the hallways and are incorporated into metalwork in the lobby of the 196-room "boutique-style" hotel.
Corporate travelers who are used to Hilton's usual perks will be happy to see there's an executive lounge and opportunities to earn rewards points, plus nice touches like Peter Thomas Roth toiletries and bowls of free fruit in the lobby.
(Other budget-friendly hotel options close by include the wellness-focused EVEN Hotel, from $199, which has workout equipment in each room and houses the basketball teams that play against the Brooklyn Nets, and the Holiday Inn, also from $199, whose French Korean restaurant, Brasserie Séoul, with its metal café chairs and Edison light bulbs, looks as though it was lifted right out of Williamsburg.)