A Pop-Up Shop For Full Bust Ladies Coming To Houston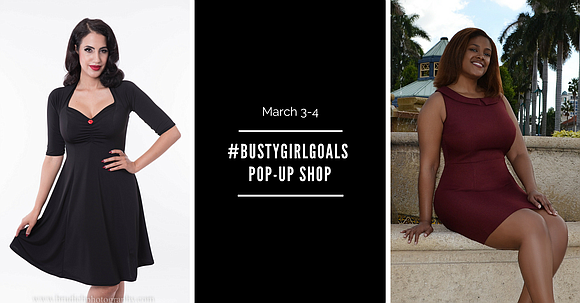 New York City-based Exclusively Kristen and South Florida-based Bolero Beachwear are teaming up with Houston's Mystique Lingerie in order to bring full bust ladies style and proper fit.
On Friday, March 3rd from 10am-6pm and Saturday, March 4th from 10am-4:30pm, Bolero Beachwear and Exclusively Kristen: Chic Fashions for Larger Bosoms will pop-up at Mystique Lingerie.
Mystique Lingerie, Bolero Beachwear, and Exclusively Kristen are proud to be part of the body inclusive revolution in fashion! The average bra size in North America has been increasing but, unfortunately, most lingerie stores carry limited styles and sizes, and standard apparel is made for a B cup frame. So ladies who do not fall into this narrowly and inadequately defined standard have to resign themselves to dowdy, ill-fitting clothes and bras. This is where Mystique Lingerie, Bolero Beachwear, and Exclusively Kristen step in to save the day!
Bolero Beachwear perfectly combines the tropical flavors of South Florida with styles that resemble the vibrant and diverse cultural tapestry of the region with a dash of vintage. Apparel is made with high quality fabrics and figure-flattering cuts that effortlessly create a chic collection of tops, bottoms, and dresses. Bolero apparel uses stretch, wrinkle resistant materials and vibrant colors with proportions that guarantee the perfect fit for larger bustlines, sizes XS-XXL.
Exclusively Kristen offers business casual apparel designed to flatter, fit, and complement DD+ women, sizes 4-20. Shirts, dresses, and blouses have precise proportions and high quality fabrics that provide stretch and eliminate pulling and gaping. Designed with the professional woman in mind, Exclusively Kristen apparel transitions from the workplace to the social hour with aplomb. Always chic, always appropriate, the designs allow the wearer to feel confident, classy, and well-dressed for any occasion.
Mystique Lingerie was established in 2007 as a luxury intimate apparel boutique, specializing in professional, personalized bra fittings. Over the years the shop has grown to have one of the largest bra selections in the Katy area. Their inventory consists of over 40 distinctive lines, with sizes ranging from 28A to 50K. They also have a wide range of sizes in strapless, nursing and sports bras, as well as shape wear, PJ's, lounge wear, bridal bustiers and elegant lingerie.
Exclusively Kristen and Bolero Beachwear Pop-Up Shop
March 3rd, 10am-6pm
March 4th, 10am-4:30pm
Mystique Lingerie
23114 Cinco Ranch Boulevard
Katy, TX 77494
RSVP: https://www.eventbrite.com/e/bustygirlgoals-pop-up-shop-houston-tickets-32193145565