Houston Texans Host Oakland Raiders in Wild Card Playoff Game
Fans Encouraged to Enter Game Early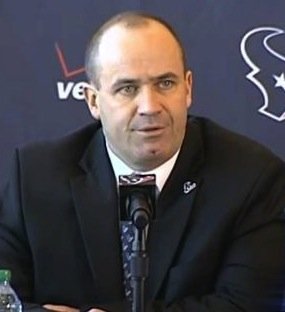 Hashtag: #TexansPlayoffs
GoTexans_Kroger_LinearAFC South Division Champions, the Houston Texans, will host the Oakland Raiders in the Wild Card playoff game this Saturday, Jan. 7. The Wild Card game presented by Kroger kicks off at 3:35 p.m. at NRG Stadium.
Saturday's matchup will include a number of different festivities and giveaways leading up to and during the game. Upon entrance into NRG Stadium, fans will receive Playoff Power Towels courtesy of Reliant and Kroger. In addition to the giveaway, fans seated in sections 121 through 132 on the east side of the stadium will take part in a GO TEXANS card stunt prior to kickoff.
BOB ApprovedHeadlining Saturday's halftime performance will be multi-platinum selling hip hop artist B.o.B. The six-time GRAMMY Award Nominee reached No. 1 on the United States Billboard Hot 100 four times with popular singles "Nothin' on You," "Airplanes," "Magic" and "Strange Clouds." His studio album, "The Adventures of Bobby Ray," also reached No. 1 on the Billboard 200. B.o.B will be accompanied by the Houston Texans Cheerleaders during Saturday's halftime show.
Highlighting the week leading up to the game is today's Playoff Pep Rally at the Havard Boys & Girls Club. During the event, Texans Ambassador J.J. Moses, Texans Cheerleaders and mascot TORO will partner with members of the Houston Texans Teen Club to help kids make signs to cheer on the Texans, write good luck letters to Texans players, sign the playoff banner and get their faces painted. A pep rally will follow the evening's activities.
Below are details about in-game entertainment and what to look for when the Texans face the Raiders in postseason play:
Wild Card Playoff Game features:
Houston Texans Founder, Chairman and Chief Executive Officer Robert C. McNair accompanied by his wife Janice will serve as the Homefield Advantage Captains.
Fan Club Members including Battle Red Ladies presented by Palais Royal, TORO's Kids Club members presented by Kroger and Toros Bravos members presented by Verizon will hold the Texas Flag.
Fan Club Members, Texans Season Ticket Members and corporate partners including BHP Billiton, Mustang Cat, National Oilwell Varco and BMW will present a field-size American flag.
Fans will have the chance to bid on two lower level tickets to Super Bowl LI at the Silent Auction cart in Section 140 with all proceeds benefitting the Houston Texans Foundation.
Houston Texans mascot TORO will rappel into the stands during pregame and will take part in a reverse rappel noise meter stunt during the first half.