28th Annual AIDS Walk Houston "Red Umbrella Stroll" Takes Place on Sunday, March 5
Annual event helps local HIV/AIDS service organizations provide programs and services to thousands of Houstonians impacted by the virus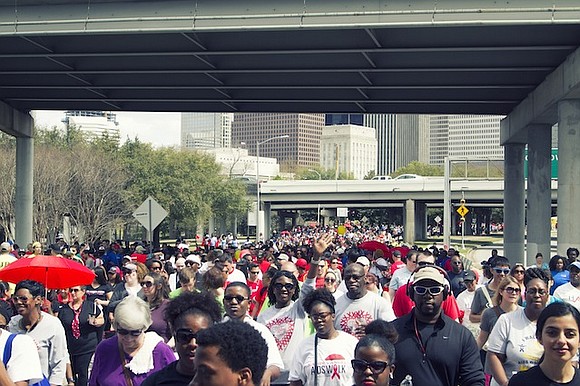 HOUSTON, TEXAS — AIDS Foundation Houston (AFH) hosts the 28th annual AIDS Walk Houston on Sunday, March 5, 2017, at Sam Houston Park in Downtown Houston. This signature event is the city's single greatest response in the fight against HIV/AIDS. Funds raised help local HIV/AIDS service organizations provide programs and services to thousands of Houstonians impacted by the virus. A goal of $500,000 has been set and more than 10,000 Houstonians are expected to gather to remember family and friends and to honor those living with HIV/AIDS.
AIDS Foundation Houston, now in its 34th year, is the first organization in Texas to provide dedicated HIV education and services. AIDS Walk Houston is the agency's largest annual fundraiser that simultaneously garners touch-points and awareness of HIV and AIDS related issues within the greater Houston community.
The 5K walk supports almost 30,000 Houstonians currently living with HIV/AIDS. The funds that participants raise benefit 10 local HIV/AIDS services organizations that provide individuals with education, pediatric programs, housing, food, medical care, counseling and job training.
EVENT: AIDS Walk Houston 2017 "Red Umbrella Stroll"
WHEN: Sunday, March 5, 2017
12 p.m. — Registration begins
1 p.m. — Walk kicks off
2 p.m. — Festivities continue
WHERE: Sam Houston Park, Downtown Houston, 1000 Bagby Street, Houston, TX 77002
COST: Free to register and participate; fundraising efforts are appreciated
LINK: www.AIDSWalkHouston.org
SOCIAL MEDIA:
Facebook: https://www.facebook.com/AIDSFoundationHouston
Twitter: https://twitter.com/AIDSHelpHouston
Instagram: https://www.instagram.com/aidshelphouston/
About AIDS Foundation Houston
AIDS Foundation Houston, Inc. (AFH), founded in 1982, is a 501(c)(3) nonprofit corporation that was the first AIDS Service Organization in Texas and remains a national leader in HIV/STD programming. Focusing on preventing new HIV infections, and providing housing and supportive services to those already living with HIV/AIDS, AFH provides care to almost 6,000 men; women and children affected by HIV/AIDS and will educate more than 75,000 people throughout Texas. For more information, please visit www.AIDSHelp.org.