Jimmy Carter, Cancer-free, Crusades Against Guinea Worm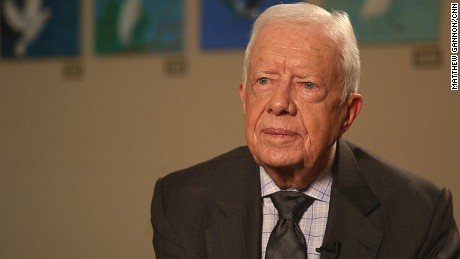 By Jacqueline Howard
CNN
(CNN) -- President Jimmy Carter wants to outlive Guinea worm disease.
With a grin on his face, twinkle in his eyes and pep in his step, the 92-year-old former president sat down to talk with CNN's chief medical correspondent, Dr. Sanjay Gupta, at the Carter Center in Atlanta on Wednesday morning.
Carter needed no assistance walking up stairs and settling into his chair to discuss the Carter Center's efforts in eradicating Guinea worm disease infections around the world.
The 39th president of the United States appeared to be in good health.
"I'm doing well," he said. "I'm very thankful, of course."
His melanoma fight
In the summer of 2015, Carter announced that he had a deadly form of skin cancer called melanoma, which was first found in his liver before it spread to his brain.
Then, by winter, Carter made another announcement: He was cancer-free.
Along with surgery and radiation, Carter received a new method of treatment called immunotherapy, which utilized his immune system to target cancerous tumors and rid his body of any evidence of cancer.
"The radiation treatment of my brain came first. The actual physical removal of a big part of my liver was effective," he said. "I'd say the new medication has been the key to success, perhaps."
Carter said his brain and body are scanned every three months to monitor his health. Another session of scans is scheduled this week.
"For the last six months, I haven't had any sign of cancer in my liver, part of which was removed earlier, or in my brain, where I had four spots that were cancerous. So far, the treatment has been good," Carter said.
"I'd say that the new treatment, that lets my own body react to cancer without impediment, it's been the most effective new development," he said. "I still hope that I'll be able to survive the last case of Guinea worm."
'Watch out, Guinea worm; here comes Jimmy Carter'
In the mid-1980s, Guinea worm disease, caused by the parasite Dracunculus medinensis, afflicted about 3.5 million people annually in 21 countries across Africa and Asia.
The tropical disease causes painful fevers and grotesque swelling of various parts of the body, including sexual organs, Carter said. Many suffered as worms came out of their bodies.
"My main regret is that when I was president of the United States and had a lot of authority and power and influence, I didn't know about these neglected diseases. I only learned about them after I'd been out of office for a year or so," Carter said.
For decades, the Carter Center has worked with ministries of health in nations around the world to track the number of cases of neglected tropical diseases and to help stop the spread of such diseases by providing health education and programs.
The center also has provided technical and financial assistance to national Guinea worm eradication programs to stop the actual transmission of the disease.
In 2016, the latest year for which data are available, there were only 25 reported human cases of the disease, in three countries: Chad, Ethiopia and South Sudan.