Four Reasons Why HIDDEN FIGURES Should Be #1 AGAIN!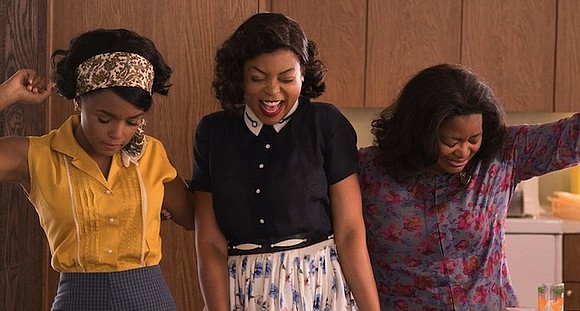 HIDDEN FIGURES blew expectations with movie-goers making the film #1 opening weekend, beating ROGUE ONE at the box office and bringing in $22.8 million!
It's a film for the entire family to experience! The true story of how three amazing women helped pave the way in areas of race and segregation, showcasing the epitome of #BlackGirlMagic
See four reasons why the film is a MUST SEE and what the hype is all about.
Let's make HIDDEN FIGURES #1 for the second weekend in a row.
*The film may have taken place in the early sixties but couldn't be more timely; especially with awards season. The film and cast members have been nominated for awards such as: Golden Globe Award, Screen Actors Guild Award, Critics' Choice Movie, BAFTA Award and NAACP.
*To continue to create buzz and spread the word about the untold story, celebrities such as Common, Nas, Jamie Foxx, Debbie Allen and many more praised the film on social media.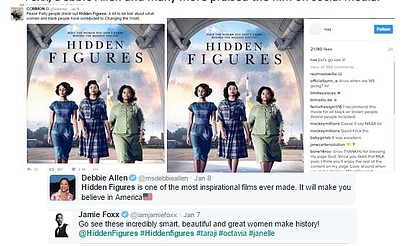 *Taraji P. Henson, Janelle Monae and Octavia Spencer played the roles of the three Black female mathematicians who began working for NASA in the 1950s and helped launch astronaut John Glenn into orbit. Did you know that all of the characters they play are members of Alpha Kappa Alpha Sorority, Inc.?
*Lastly, let's not forget about the men in the film. From Luke Cage to Straight Outta Compton, Mahershala Ali and Aldis Hodge, play the roles of Jim Johnson and Levi Jackson; supportive husbands to Katherine Johnson and Mary Winston Jackson during the Civil Rights.
HIDDEN FIGURES
Drama
Release: Limited December 25, 2016; Wide January 6, 2017
Director: Theodore Melfi
Screenplay by: Allison Schroeder and Theodore Melfi, based on the book by Margot Lee Shetterly
Producers: Donna Gigliotti, Peter Chernin, Jenno Topping, Pharrell Williams, Theodore Melfi
Cast: Taraji P. Henson, Octavia Spencer, Janelle Monáe, Kevin Costner, Kirsten Dunst, Jim Parsons, Mahershala Ali, Aldis Hodge, Glen Powell & Kimberly Quinn.
SYNOPSIS
HIDDEN FIGURES is the incredible untold story of Katherine G. Johnson (Taraji P. Henson), Dorothy Vaughan (Octavia Spencer) and Mary Jackson (Janelle Monáe)—brilliant African-American women working at NASA, who served as the brains behind one of the greatest operations in history: the launch of astronaut John Glenn into orbit, a stunning achievement that restored the nation's confidence, turned around the Space Race, and galvanized the world. The visionary trio crossed all gender and race lines to inspire generations to dream big.
HIDDEN FIGURES Official Channels
SITE: HiddenFiguresMovie.com
FACEBOOK: www.facebook.com/HiddenFigures
TWITTER: www.twitter.com/HiddenFigures
INSTAGRAM: www.instagram.com/hiddenfiguresmovie/
HiddenFigures