Cabo San Lucas: The Perfect Girlfriend's Getaway Destination
Brandi Neal | 1/20/2017, 2:14 p.m.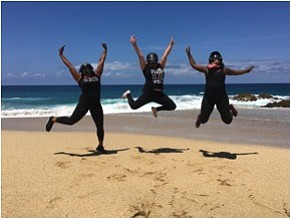 Houston Style's globetrotter on the go recently took a trip to Cabo San Lucas for a quick girlfriend's getaway and did it all on a budget! So for those of you in need of a vacation but perhaps the holidays forced you to tighten up the boot straps a bit, here's Brandi to tell you how to get that much needed paradise escape without breaking the bank.
Our flight out of Houston to Los Cabos Airport cost just $236.60 round trip on United Airlines (Tuesday – Friday). We booked round trip transport from the airport to our hotel in advance on transbaja.com for just $36. While waiting for my 2 friends to join me, I scheduled some activities, signing us all up for a massage on the beach, an ATV ride (also on the beach) and a "booze cruise" for only $75, not $75 each, but $75 in total. Yes, amazing!
Our hotel reservations were at the Fairfield Inn, three girls to a room. While the hotel was not on the beach, it was just a 5-minute drive or a 15-minute walk to the sand and that was good enough for us. As soon as we checked in and dropped off our bags, we hit the town. Our first day in Cabo was devoted to shopping and venturing out to some of the local clubs. We headed to the Office, which is the perfect place to hang out, mingle with the locals, check out vendors and eat great food. Our table setting was perfect - right on the sand under an umbrella, just inches away from the water. I ordered enchiladas with chips and guacamole and the best margarita ever! On Thursdays, they put on a Mexican fiesta, which you won't want to miss. If you're in the mood for American food, try Doggy Style, our favorite for great hot dogs, hamburgers, and fries, (especially the chili cheese fries) and of course milk shakes. We kept going back, with each meal being tastier than the last.
We shopped and made some great purchases at a variety of pop-up stands along the beach and also made our way to the Plaza Bonita Shopping Mall. The mall is packed with tourists from all parts of the world, so that means a plethora of restaurants specializing in every type of cuisine, not to mention the nightclubs. Our favorite club in Cabo was El Squid Roe, a nightclub and restaurant all in one, taking up a full three floors. It's one of the most popular clubs in town with tons of people dancing on the open-air dance floor, which is on the main level. Plenty of patrons table-dance as well, totally lost in the music. You can find El Squid Roe right across from the Hard Rock Café.

On the second day we enjoyed breakfast overlooking the beach, then laid out at the pool. Later, we headed back to the beach for some more pampering and enjoyed the best massage EVER overlooking the water. There simply is no better way to relax in the sun and did I mention the massage was only $25! We then made our way back to the hotel to get ready for our Sunset Cruise on Cabo Escape, which included a great evening filled with fantastic music, unlimited food and drinks enjoyed by a diverse group of people, all there to have fun. The ambiance was just right and we all had a great cruise on the water.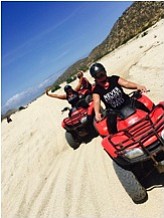 On our third and final full day in Cabo, we enjoyed Cactus ATVs. I had lined this package up ahead of time, which included round trip transport to the ATV Park from our hotel. We paid a $15 entry fee plus $40 for insurance, but it was all well worth it. Riding ATVs along the beach, the view was truly breathtaking! We really enjoyed this beach activity and highly recommend it for those looking to do something a little different.
To sum it up, Cabo is a perfect beach destination getaway for a little fun with the girls and without the stress of breaking your budget.
For more on traveling, you can follow Brandi Neal on Twitter and Instagram at @thebconnect.