LAUNCH Pop-Up Shop Showcases Houston's Design and Artistic Talent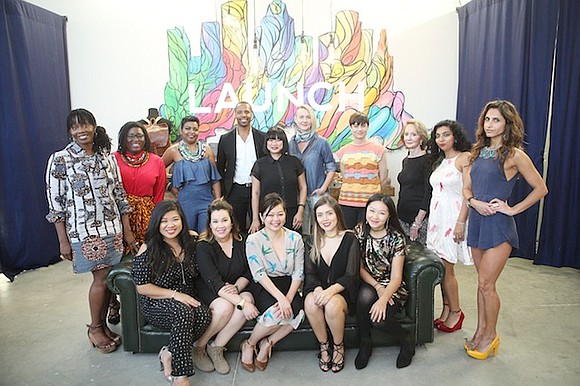 Houston is rich with its burgeoning fashion and art scene. As the home of some of the world's best shopping, art galleries and cultural destinations, we boast of a diversely broad array of international and local talent.
With Super Bowl 51 fast approaching, Holly Claphman Rosenow, Chief Marketing Officer of Houston First, approached PR expert Sydney Dao of Squid Inc. Public Relations, about creating a pop-up shop of local talent. Downtown Houston will be bustling with visitors and tourists, many looking for unique experiences to incorporate into their Super Bowl experience. This pop-up shop will expose those visitors as well as the hometown crowd to these artisans – many of whom operate via online or other similar pop-up shopping venues.
LAUNCH Pop-Up Shop is housed in a vacant space in prime downtown real estate, which will have key visibility during the Super Bowl and events leading up to it. Houston First wanted to create a showcase of the best local designers and artisans who also reflect the city's cultural diversity. Having worked for years in the fashion industry in New York and Houston, Sydney Dao was the perfect person to curate the LAUNCH concept.
The artisans were selected based on style, quality and fit of their garments/products, the ability to provide enough product to last the duration of the pop-up and their products had to compliment the other designers featured. Once you visit the space, the cohesiveness of those featured is evident.
"It is such a blessing to be featured in the same company as designers whose work I admire so much", said featured designer and current Houston Community College Fashion Merchandising student, Kisa Williams of KisaKisa. Designer Ellyse Espinoza of Stateline Designs is a pop-up shop regular. After her stint at LAUNCH, you'll see her around town in her new mobile fashion truck.
Other artisans featured included Project Runway Season 2 winner, designer Chloe Dao (sister of Sydney Dao); Artist Marilyn Byles; Fashion Illustrator, RonGrong Devoe; artist Janavi M Folmsbee (who created the LAUNCH logo), menswear designer, Edwige Pierre and a bevy of other creatives.
"If the LAUNCH concept is successful, and we think it will be, there may be future LAUNCH (pads) throughout the city", said Sydney Dao. The pop-up will run for 6 weeks and will be open 7 days a week starting January 14th through February 26th.