Pre- Super Bowl Live Music Experience: ft. MAJOR. & Montina Coope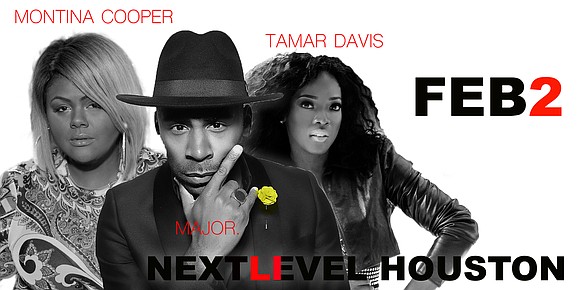 HOUSTON, January 20, 2017 – MAJOR. and Montina Cooper have done what so many aspiring Houston artists dream about; they have made it big! With more than 8 million views on YouTube of his hit single, "Why I Love You" and an NAACP Image Award nomination for Outstanding New Artist, MAJOR. is one of the hottest new artist's in music. Montina Cooper has lived a fairytale life as a background singer for Beyoncé for more than 10 years, and also has a solo project entitled, "Closer." These two amazing artists both grew up in Houston and they are both coming home to perform at The Next Level Houston on Thursday, February 2, 2017 at The Hess Club, 5430 Westheimer Rd Houston, Texas 77056. Tamar Davis, GRAMMY®-nominated singer, songwriter and actress who gained notoriety after appearing on NBC's The Voice, will host The Next Level Houston. The red carpet will begin at 9 p.m. and the show starts at 10 p.m. Tickets start at $20 and can be purchased at www.nextlevelhouston.eventbrite.com.
MAJOR. is no stranger to the music industry having written for Ariana Grande, Nathan Sykes and SONY Pictures' "Think Like A Man Too" original motion picture. Currently, MAJOR.'s debut single "Why I Love You" is charting at #5 at Urban AC Radio. There is a meaning behind his birth name MAJOR. (spelled with all caps and a period at the end) but even more purpose behind his music. The multi-faceted singer delivers a soulful-pop sound to the new age; while giving a mix between Bruno Mars meets John Legend with a hint of Maxwell on steroids. His live show is mesmerizing! From filling up the legendary Troubadour to the BET Soul Train stage as a Centric Soul Artist, MAJOR.'s distinct voice and cool presence gives birth to a sexy aura that he exudes from the inside out.
Montina Cooper has been embedded in the music industry as songwriter, producer and vocal arranger for years. She has been performing with Beyoncé for over ten years and was in a world-renowned back up group, The Mamas. With the highly-anticipated pairing of MAJOR. and Montina, The Next Level Houston is going to the Thursday night Pre-Super Bowl place to be in Houston! There will also be powerful performances by up-and-coming local artists, Erica Wiley, Shonnie Murrell and Tony Henry. All of the artists will be backed by The Pat Williams Group and well-known DJ Cruize Control will pump the party between the live performances.

The Next Level Houston is a live monthly entertainment event featuring national recording artists from a variety of genres as well as local artists looking to showcase their talent during the open-mic portion of the show, reminiscent of the popular talent shows hosted in New York City that led to the discovery of some the best-known artists in the music industry.
The Next Level Houston was created by four nationally recognized music industry powerhouses who had a vision to revitalize the live entertainment scene in Houston, Tamar Davis of Syren Music Group; Chris "DJ Cruize Control" Williams of BPM Music Group, former vice president of marketing and artist management at Music World; Pat Williams of The Pat Williams Group, legendary drummer who has shared the stage with many musical stars and legends including, Joe Sample, Alex Bugnon, Regina Belle; and Greta Williams of The Williams Group, Juilliard trained vocalist and Houston-area Realtor® who has also taught at The Boys Choir of Harlem and toured Europe and performed with many notable artists.