Schumer Asks Trump to Keep CIA Chief Until Monday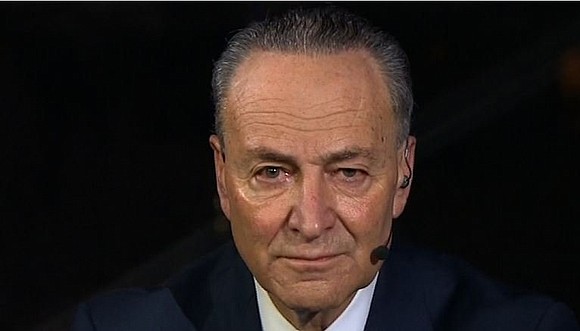 By Manu Raju and Ted Barrett
CNN
(CNN) -- As the Senate squabbles over whether to confirm Rep. Mike Pompeo on Friday as CIA director, Senate Minority Leader Charles Schumer is urging the Trump administration to keep John Brennan in the top intelligence job until Monday.
The New York Democrat has asked Vice President-elect Mike Pence to keep Brennan on, according to a Schumer aide.
The move could help shield Democrats from criticism of leaving the key intelligence post vacant over the weekend, but Brennan has been a sharp critic of Trump during his strains with the intelligence community.
"While members of the Senate give Rep. Pompeo's nomination the careful consideration it deserves, Senator Schumer has asked Vice President Pence to keep Director Brennan on the job over the weekend," said Schumer spokesman Matt House. "Just as Director Hayden served as a bridge between the Bush and Obama presidencies eight years ago, Director Brennan could play the same role for the incoming and outgoing administrations, if the President is willing to keep him on."
Senate Intelligence Committee Chairman Richard Burr, R-North Carolina, accused Schumer of breaking an agreement to confirm Pompeo on Friday.
"We had a deal with Schumer but apparently he's broken that," Burr told CNN.
As he headed into Majority Leader Mitch McConnell's office for a pre-inaugural meeting to discuss the issue, Burr explained that he had agreed to a Democratic request to change by one day the Intelligence Committee's confirmation hearing for Pompeo in exchange for Schumer's word that Pompeo would be voted on by the Senate on Inauguration Day.
Sen. Tom Cotton, R-Arkansas, a member of the Intelligence Committee, was overheard in a Capitol corridor informing several other GOP senators about the issue and firing them up to fight Schumer.
"I hope we'll stay in session for as long as it takes to get Rep. Pompeo confirmed," Cotton said in an interview a few minutes later.
Democrats argued that a CIA director had never been confirmed on Inauguration Day before and Pompeo has controversial views on surveillance and other issues that should be debated on the floor.
"There are some serious questions as to what Pompeo is gong to do at the CIA," said Sen Chris Murphy, D-Connecticut. "We ought to be able to have a debate on the Senate floor."
If Brennan isn't kept on and there's no director, the responsibilities fall to the agency's executive director.
The comments come as the GOP is planning a major push to get more Trump nominees confirmed soon -- with Sen. John Cornyn of Texas advocating for all-night, all-weekend sessions to get at least five more nominees confirmed.