Kitchen Throwdown: The Ultimate battle between 2 All-pro NFL Player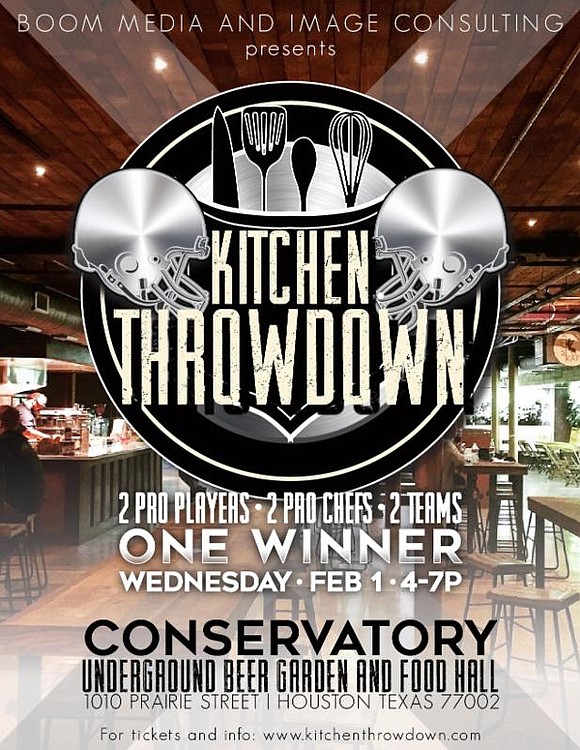 Houston, TX- Succulent, Aromatic, Smoky, Sensational, and Yummy, definitely not words synonymous with America's football frenzy and Super Bowl craze but one local firm; Boom Media and Image Consulting, is looking to change the game one pigskin at a time! We've watched our favorite NFL players hit the field during the season to battle for gridiron glory and now two All-Pro NFL players will have one last chance to make a game changing play in the inaugural culinary showdown known as "Kitchen Throwdown". This culinary battle will be held at the Conservatory Underground Beer Garden and Food Hall located at 1010 Prairie St, Houston, TX 77002 on Wednesday, February 1st from 4:00 p.m. to 7:00 p.m.
Sports is where an entire life can be compressed into a few hours, where the emotions of a lifetime can be felt on the gridiron, hardwood or the diamond. Kitchen Throwdown embodies that experience; challenging these players and their celebrity chefs to bring their "A" game while showing off their culinary skills under intense time constraints and the added pressure of performing under the bright lights.
Headlining this year's Kitchen Throwdown is Texans first round draft pick and All-Pro linebacker Whitney Mercilus accompanied by Shark Tank alum and culinary prodigy Chef Sabin Lomac of Cousins Maine Lobster. The duo will take on another surprise megastar team comprised of an All-Pro player and celebrity chef to be revealed later. The host for this star-studded food palooza is Houston's adopted son, television/radio personality and fan favorite Original Texan Chester Pitts! Knowing a thing or two about being the last man standing Pitts is the perfect addition to voice this face-off as each player vie to become the last culinary apprentice standing!
If you have a knack for food or a thirst for culinary adventure, Kitchen Thowdown is definitely the event for you! You will witness players compete in a 60 minute duel as they create their finest culinary dish using fresh ingredients from their mystery entrée basket that will include a "wild card" food item not normally associated with the food found in their baskets. Each player will have to present a flavorful dish from their culinary playbook that replicates their style of play. The dishes will be evaluated by an all-star officiating panel of three celebrity guest judgeswho certainly know their food and will draw on their culinary expertise to award MVP honors to the most deserving and creative player/chef duo while ensuring that there are no flags on the plate!
The competitors will have 5 minutes to set their stations, 45 minutes to cook, 5 minutes to plate and 5 minutes to clean and exit their stations. Presentation is one factor the judges will be looking for when picking a winner. The point system the judges will use to score the competitors will also consider criteria such as organization, sanitation, cooking skills, culinary technique, creativity, portion size, flavor and texture, ingredient compatibility, presentation and nutritional balance. The players will receive culinary cues, support and expert guidance from their assigned celebrity chefs. Competitors will have access to a pantry stocked with culinary staples, basic supplies and equipment such as pans, fryers, conventional ovens, food processers and blenders.
This blitz battle has the makings of an instant culinary classic as these players cook for a cause! In addition to dancing in the end zone, the winner of Kitchen Throwdown will walk away with bragging rights and $25,000.00 for his favorite charity. Hometown favorites, Whitney Mercilus and Chef Sabin Lomac, will be playing for the WithMerci Foundation, an organization that provides advocate services and support to families of children with disabilities and special needs.
For more information and to purchase tickets, please visit the website www.kitchenthrowdown.com. Please follow us on social media for up to date information as we gear up for the kickoff of Kitchen Throwdown: IG @kitchen_throwdown and FB @KitchenThrowdown.
Whether it be a "Hook and Lateral" or "Hail Mary", you will want to witness this evening of food and fun as your favorite player compete for a chance to make a game changing play!