Houston Entrepreneurs Organization, Jim McVaugh, McVaugh Custom Homes is Texas' Only Residential Builder to Win the Industry's Highest Honor, a Gold Award.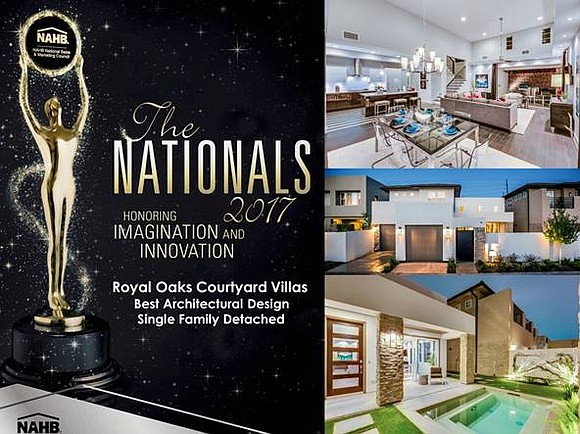 The Royal Oaks Courtyard Villa's serve as Houston's premiere modern, guard-gated, luxury single-family development. The Courtyard Villas is Texas' first ever fully LEED certified community and is a combination of the latest and greatest in modern home building. Located just 6.5 miles from the Galleria, this community offers the ultimate in luxury and affordability. Standard features such as: home automation, handcrafted German cabinetry and appliances, sliding glass corner pocket doors, first floor master suites, and fully maximized indoor/outdoor living. Inside you will find clean lines designed by world renowned California architect Danielian Associates. The Royal Oaks Courtyard Villas offer both an exceptional home and an exceptional lifestyle.
The Nationals salutes and honors the best in the building industry for their determination, integrity, creativity and endurance.
History
Jim McVaugh saw a growing demand of buyers looking to downsize and simplify life. Prior to our project, it was difficult to find luxury finishes in a smaller footprint other than a condo or high-rise. Although our buyers liked the amenities afforded by high-rise living they still wanted a single-family home. Thus, the Royal Oaks Courtyard Villas combines the lock-n-leave services and one story living aspect of a high-rise unit. For example, all exterior maintenance including yard care and painting are covered by the HOA. Additionally, Jim McVaugh wanted to provide exceptional value and style. He took his over 25 years of experience building multi-million dollar homes and created a product of comparable finishes starting from the 400's to 800's.
Environmental Impact
The Royal Oaks Courtyard Villas is the first residential neighborhood in Texas to achieve 100% LEED Certification. LEED is an internationally recognized environmental program that provides a means of verifying that a building or a group of buildings were designed and built in a way that would improve energy savings, water efficiency, indoor environmental quality, and CO2 emissions reduction. McVaugh Custom Homes aims to create a new sense of responsibility and direction for the residential building industry. For this project our average utility bill is $60 per month for heating & cooling and homeowners are provide a two-year energy guarantee.
Community/Houston Impact
Over the past 20 years Jim McVaugh has strived to stay on the cutting edge of architectural design and on the forefront of building science. For the Royal Oaks Courtyard Villas he set out to not only use world renowned architects and designers but to also implement sustainable building methods. The Royal Oaks Courtyard Villas development has an average savings of 70% on contraction waste. Although this diverted wasted often times goes unseen, we at McVaugh Custom Homes believe it is the responsible way to build and develop going forward.
Development Video: https://www.youtube.com/watch?v=YtSEGjTn8EA
LEED Building: https://www.youtube.com/watch?v=xbmfQocscMM
Jim McVaugh is a member of the Houston Entrepreneurs Organization, a group of 144 people with median sales of $2 million and more than 5,000 employees, and part of the global 12,000-member Entrepreneur Organization.