NFL Shop at Super Bowl LI Presented By Visa Elevates the Houston Retail Experience with Concerts, Signing, Food Demos, Exclusive Product and More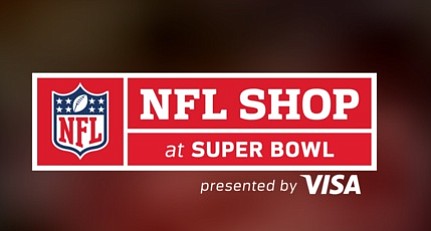 HOUSTON – January 27, 2017 – NFL SHOP at Super Bowl presented by Visa, opens Saturday, January 28 at George R. Brown Convention Center, and serves as the ultimate fan destination in the Greater Houston area. The 35,000-square foot NFL SHOP is free to the public and does not require a ticket for NFL Experience to enter.
It features more than 1,000 styles and products expertly curated to offer the largest and most exclusive collection of Super Bowl merchandise available anywhere. Fans across all 32 teams will find product to express their team pride. As an official NFL Retail partner, Aramark will be handling merchandise sales on behalf of Super Bowl LI.
Unique to Super Bowl LI, NFL Shop will feature a wide variety of exclusive, limited edition products designed to capture Texas' western feel. These items include Houston Texans and Dallas Cowboys branded Dooney & Bourke bags, BBQ Smoker, Astroturf Cuff Links and Astrodome seats from Tokens & Icons, limited edition gold and silver VIP footballs from Wilson, NASA inspired Flight Jacket with patches, 24-karat gold coins, and Texas motif Touch by Alyssa Milano Denim "MVP" jacket. Just in time for The Big Game, NFL SHOP will also offer an array of exclusive Homegating items including remote control coolers, mini-fridges, SBLI dartboards, and wine & cheese accessories.
Sports fans of all ages will find a wide variety of officially licensed team and Super Bowl LI apparel and memorabilia, ranging from the latest fashion trends to limited-edition items – including the Super Bowl LI Nike Alpha Fly Rush Jacket, New Era Opening Night 9FIFTY caps worn by the players at Opening Night Fueled by Gatorade. Fans will also have the opportunity to create customized products, including Nike jerseys, New Era caps, canvas replicas of game tickets, footballs, shot glasses, and t-shirts that will stay with them for a lifetime.
Five unique New Era cap releases will take place throughout the duration of the week, offering fans the opportunity to purchase unique, exclusive gear including the Opening Night 9FIFTY, SBLI Gray Matter 9FORTY, Warren Moon designed 9FIFTY, Record Breaker NFL Shield 9FIFTY, and Liftoff LED lights NFL Shield 9FIFTY. New Era has also partnered with Bespoke to offer caps customized on-site with a variety of visor treatment options. These visor-customized caps are available to customers who purchase over $150 in New Era product.
NFL SHOP at Super Bowl LI will also commemorate the unveiling of Disney star Peyton List's Juniors SBLI limited edition t-shirts with an in-store concert with pop-duo Jack and Jack on Sunday, January 29 from 1-2PM. The first 50 lucky customers who purchase a Peyton List t-shirt on January 28 will get a VIP Concert ticket with a special meet and greet experience with Jack and Jack on January 29 following the concert. The concert is open to the public.
Women who spend over $100 on Touch by Alyssa Milano product at NFL SHOP will be entered for a chance to win a roster spot in the Flag Football Game. Teams will be comprised of NFL player's wives and girlfriends, and local Houston celebs. Six lucky sweepstakes winners will earn a spot on a team, coached by current and former NFL players including, Fozzy Whittaker of the Carolina Panthers and Bryan Walters of the Jacksonville Jaguars. The game will take place Saturday, February 4 at 9:45AM at NFL Experience.